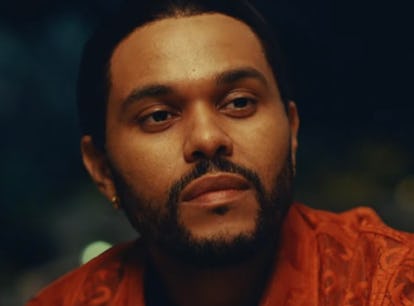 The Weeknd's Dirty Talk In The Idol Is Cringy Erotic ASMR
Someone's praise kink has left the chat.
HBO
The Idol failed at titillating their audience... again. The new series — created by Abel "The Weeknd" Tesfaye and co-producer Sam Levinson — is riddled with boundary-pushing scenes, where sex shines in a deliberately uncomfortable sheen between its main characters. And Tesfaye's character Tedros (whose last name is also, oddly, Tedros) is likely the one pushing that discomfort front and center. Viewers are made to believe he's a maestro between the sheets. Sure, he's cocky and unabashedly kinky, but once he starts talking dirty? His BDE radar falters to the negatives. In the show's latest episode, Tedros offered up a new batch of dirty talk, and Twitter isn't moved by it.
On June 11, The Idol premiered its second episode. There, viewers scored another taste of Jocelyn (Lily-Rose Depp) and Tedros' emotional tango, which involves him "liberating" her artistic vision. His first attempt came in the first episode, where he choked her with a silk robe in order to make her singing sound more raw and breathless. In the new episode, there's no singing involved in his quest to make Jocelyn feel anew. Instead, Tedros unlocked a level of explicitness that would make Tesfaye's 2014 verse on "Or Nah" blush. Yes, that track.
In the scene, Tedros blindfolds Jocelyn and verbalized his inner fantasy to her. His imagination went from 0-100 in an instant, ordering her to "stretch" herself for him as she laid on the bed. At one point, he gives her some praise, to which she gladly accepts while pleasuring herself. In all, this scene left viewers with a lingering ick, with many comparing his instructions to cringy Wattpad fan-fiction. Or worse, erotic ASMR audios.
Not only did viewers believe this scene was unpleasant on the ears, it also felt jarring in the episode's placement. For the first half of the spectacle, Jocelyn and her crumbling management team were serving decent performances. From Jocelyn's heart-wrenching breakdown at her video shoot of "World Class Sinner/I'm A Freak" to one of her managers Destiny (played by Da'Vine Joy Randolph) supporting her, it seemed as though the plot was moving in an intriguing direction. Then, once Tedros appears on screen, the storyline muddles into a odd, heavy-breathing disaster.
With these two episodes, it's clear Tedros might not be the erotic king the show's writers want you to think.
As an artist, The Weeknd has delivered some raunchy one-liners in his music. However, those lyrics seemed to move like poetry compared to Tedros' dirty talk.
If anything, this scene added a new layer to Jocelyn's "I'm just a freak, yeah" line in "World Class Sinner/I'm A Freak."
Oh, the war flashbacks. It's been nearly a year and fans are still reeling over Euphoria's Elliot singing a nearly five-minute song to Rue in Season 2.
OK, @MeliBoo____ has a point. As previously mentioned, The Weeknd's impressive discography is filled with sultry, late-night special gems— think "Often," "The Party & The After Party," "Kiss Land," and "Initiation." While those masterpieces exist, Tedros' verbal fantasy can't hold a flame to a explicit verse in either of those tracks.
The Idol is now streaming on HBO and Max.