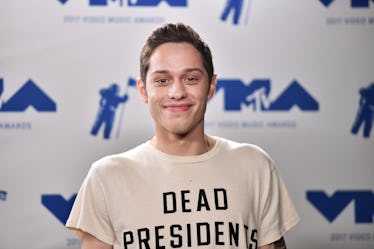 The Internet Is Obsessed With "BDE" & It's All Because Of Pete Davidson
Alberto E. Rodriguez/Getty Images Entertainment/Getty Images
Think about Ariana Grande and Pete Davidson for a moment. On paper, they make no sense. Grande is a world-famous superstar. Davidson is a celebrity in his own right — he's been on SNL for four years — but he's not quite on her same level. So what is it about Pete that catapults him into Ariana's A-list league? Well, people on Twitter are hypothesizing that it's his undeniable big d*ck energy.
What is big d*ck energy, you ask? Well, a recent piece by The Cut's Allison P. Davis summed it up pretty much perfectly:
BDE is a quiet confidence and ease with oneself that comes from knowing you have an enormous penis and you know what to do with it. It's not cockiness, it's not a power trip — it's the opposite: a healthy, satisfied, low-key way you feel yourself. Some may call this "oh he/she f*cks" vibe, but that is different: you can f*ck, but not have BDE. Some may call this "well-adjusted," but we know the truth.
Examples of people with BDE include but are not limited to Pete Davidson, Cate Blanchett (yeah, you don't need a D to have BDE), Rihanna (again, NO D NECESSARY), Justin Theroux, and Idris Elba.
How do you know if you or someone know has BDE? Davis explains:
Well, there's a certain gait — sort of like you've got a massive d*ck swinging around — but also a twinkle in the eye, like if you look right at that twinkle you can see a d*ck swinging in the eye. It's that thing that makes people bogglingly attractive to others, like Pete Davidson. It also is reflected in the way others look at you. Like, you can see your own big d*ck swinging in their eye.
Basically BDE is that swag that could make any Average Joe (or Pete) next-level hot.
Yes, you see it with celebrities like Davidson, but, odds are, you've also encountered BDE IRL. For example, remember that guy in high school who sat behind you in calculus and somehow managed to convince you to be hopelessly in love with him even though he wasn't necessarily the hottest guy ever? I'll tell you why that happened: it wasn't because he was smart or funny or popular or particularly great at flirting (although he could've been all of those things). The reason you were so into him was the fact that he had that undeniable, almost magnetic BDE.
And the internet just cannot get enough of it. People all over Twitter are tuning in to post their own musings on BDE. Read along and inform yourself.