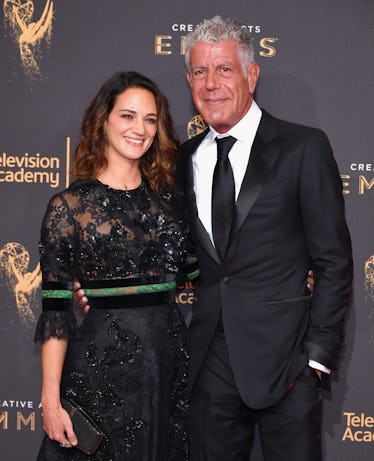 Asia Argento's Statement About Anthony Bourdain's Death Will Truly Move You To Tears
Neilson Barnard/Getty Images Entertainment/Getty Images
Another life cut short too soon. On June 8, revered celebrity chef Anthony Bourdain was found dead of an apparent suicide, as reported by CNN. The 61-year-old author and TV host had been dating Italian actress Asia Argento since 2016, and now Asia Argento's statement about Anthony Bourdain's death is here, and it's devastating.
"Anthony gave all of himself in everything that he did," she wrote. "His brilliant, fearless spirit touched and inspired so many, and his generosity knew no bounds. He was my love, my rock, my protector. I am beyond devastated. My thoughts are with his family. I would ask that you respect their privacy and mine."
So heartbreaking! The couple met when Argento appeared on Season 8 of his CNN series Parts Unknown, and Bourdain spoke about how she inspired him during an interview with People in September 2017.
"[Asia] has spent a lifetime in film since she was 9 years old," he told the publication. "She comes from generations of filmmakers on both sides of the family. She's a really accomplished director and writer, along with being a longtime actress and a real sponge for culture, music, literature. So she's enormously helpful and inspiring."
I am so sorry for your loss, Asia!
Bourdain was reportedly in France working on an episode of Parts Unknown, when his close friend and fellow chef Eric Rippert reportedly found Bourdain unresponsive in his hotel room.
"It is with extraordinary sadness we can confirm the death of our friend and colleague, Anthony Bourdain," the network said in a statement. "His love of great adventure, new friends, fine food and drink and the remarkable stories of the world made him a unique storyteller. His talents never ceased to amaze us and we will miss him very much. Our thoughts and prayers are with his daughter and family at this incredibly difficult time."
Bourdain joined CNN five years ago, but he got his start on the New York City restaurant scene working as a dishwasher, line cook, and sous chef, before eventually working his way up to become the executive chef at Brasserie Les Halles. His experiences in the industry led to him writing the book Kitchen Confidential: Adventures in the Culinary Underbelly, which was published in 2000 and gave readers a behind-the-scenes look at what really goes on in America's restaurant kitchens. I remember reading that book with my mouth hanging open, and to this day, I have never again ordered hollandaise sauce, tuna on a Monday, or asked for a slice of lemon to go with my drink. Not surprisingly, the insider-y book became a bestseller and pretty much launched Bourdain's amazing career as a television host.
"When the book came out, it very quickly transformed my life — I mean, changed everything," he told NPR. He hosted A Cook's Tour on the Food Network, and then Anthony Bourdain: No Reservations on the Travel Channel, which scored him two Emmy Awards.
Season 11 of Parts Unknown premiered last month on CNN. If you click over to the show's website, you'll find a tribute to Bourdain on the home page, along with one of his most famous quotes:
"If I'm an advocate for anything, it's to move. As far as you can, as much as you can. Across the ocean, or simply across the river. Walk in someone else's shoes or at least eat their food."
Rest easy, Anthony.
CNN will air Remembering Anthony Bourdain, a special report on the life and legacy of the chef, storyteller, and writer on June 8 at 10 p.m. ET.
If you or someone you know are experiencing suicidal thoughts, call 911, or call the National Suicide Prevention Hotline at 1-800-273-8255 or text HOME to the Crisis Text Line at 741741.