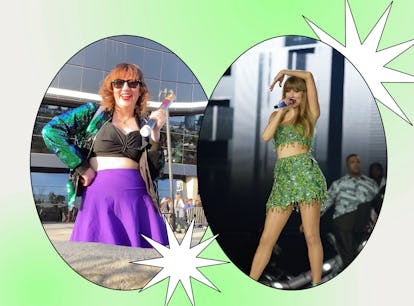 I Went To The Taylor Swift Eras Tour Alone & Here Are My Top Tips
I had the time of my life with me, myself, and I.
Rachel Chapman/Kevin Mazur/Getty Images Entertainment/Getty Images/Elite Daily
Half jokingly, I asked my Instagram Story viewers "Should I buy last minute tickets to the Eras Tour on Saturday?" a week before Taylor Swift's shows in Las Vegas, An overwhelming amount of friends told me to go for it, so I did what any reasonable person would do: I paid way too much money for a ticket, drove over five hours to Vegas, and I went to see the Taylor Swift Eras Tour alone.
Actually, going to a concert by myself is nothing new for me. I enjoy the flexibility of a solo show. I can skip out on opening acts if I want to and avoid standing in merch lines when they don't have anything I fancy. However, going with your bestie obviously has its perks as well. For instance, you have someone there to snap a cute pic of you in your 'fit. This is especially important for the Eras Tour with everyone dressing in homemade and sparkling Swift-inspired OOTDs. While you can always ask a stranger to take a pic for you or find a pole to prop your phone against — which is what I did — it's not the same as having your BFF get the perfect shot for TikTok or the 'Gram.
There are pros and cons for going solo to just about any concert, but the Eras Tour is a whole new beast. Here's everything you should know before going by yourself.
Tips For Going To The Taylor Swift Eras Tour Alone
1. Splurge For The Event Parking Instead Of Rideshare
When planning ahead of your Eras Tour show, one of the most important things to figure out is parking. Aside from some traffic, getting to the venue shouldn't be a problem — especially if you leave early enough. However, "leaving was a different story," one Swiftie, Lauren (@laurennnp), shared with Elite Daily. "We waited 45 minutes without any success getting an Uber/Lyft, so we started walking away from the venue." After over an hour of waiting, Lauren said she finally got an Uber that was $112 to take her home.
Since Swift's show has been getting out around 11 p.m. or later, you don't want to be waiting an additional hour or two for an Uber. You also don't want to be walking away from the venue late at night when you're by yourself. Instead, splurge for the event parking. I was able to find Allegiant Stadium-approved parking for just $25 that wasn't far, and got me to my car in just 15 minutes after the show. It actually saved me money in the long run, too.
2. Bring An Extra Portable Charger
As a solo concertgoer, you should still pack all the essentials like your credit cards, earplugs, and sunglasses in a clear bag. However, I recommend bringing more than just one portable charger. Since you'll be by yourself, you'll most likely be using your phone more than most people to pass the time as you're waiting in a merch line or for Swift's set to start. Having an extra boost will make sure your phone lasts through the concert.
3. Give Yourself Plenty Of Time Before The Show To Settle In
You might think getting to the concert later is the best choice if you're going alone. However, don't underestimate how much time you'll need for getting settled in. You want to have enough time to find your seat, grab some food, snap a selfie, look at the merch, and even go to the bathroom before the show. The latter is especially important since the Eras Tour is over three hours long. By getting there with plenty of time, you can check everything off your to-do list before Swift takes the stage.
Another perk to getting there early is that you can get to know the people around you. I'm a pretty introverted person, but the Swifties next to me introduced themselves before the show and it made me feel more comfortable. Some fans are even handing out friendship bracelets to fellow Swifties, and you may make a new bestie like TikToker @thecommonroomshop.
4. Don't Let Anyone Try To Ruin Your Night
Not every person has been lucky enough to sit next to true Swifties. TikToker @emilyquinton shared her experience with some unkind fans who should probably listen to Swift's song "Mean" from Speak Now. While I didn't experience any mean girls at my concert, I know it's been brought up as an issue before on TikTok. For instance, TikToker @drpanichamcguire shared her experience with a group making fun of her outfit.
The best advice for anyone going to the Eras Tour alone and feeling worried or self-conscious actually comes from Swift. She once said, "The worst kind of person is someone who makes someone feel bad, dumb, or stupid for being excited about something." So, just remember anyone who tries to bully you at the show is not a true Swiftie, and the minute the show starts, you'll forget everything around you.
5. Have The Best Time Just Being Your Swiftie Self
If you can afford the ticket, it is 100% worth it to go to the Eras Tour alone. I had the best time of my life scream-singing the bridge to "Cruel Summer" and crying for all 10 minutes of "All Too Well." Even my seat on the side of the stage was perfection, and I would do it again if I could. I may not have the best pic of my 1989 era outfit, but I have an even better story to tell to my friends at brunch. Plus, I really lucked out with two of the best surprise songs of the Eras Tour so far — "cowboy like me" and "White Horse." It really was the first time I gambled in Vegas and won the jackpot.