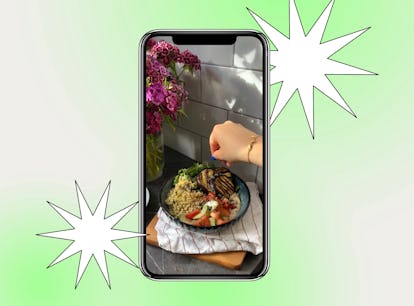 Summer Salad Recipes On TikTok To Upgrade Your Lunch Break
*Saving and sending to friends immediately.*
Summer is quite possibly the tastiest time of the year because there are so many fruits and vegetables that are in season. You can see the rise in fresh goods when you wander into the grocery store and pick out produce from the overflowing crates of peaches, watermelon, tomatoes, corn on the cob, cucumbers, blueberries, and zucchini. Bringing bags of these goods home and following along with all the summer salad TikTok recipes on your lunch breaks becomes #necessary.
You don't want to miss out on the bold flavors — or skip a delicious beet, if you will — and these salad recipes know how to make citrus notes stand out among the others on your tastebuds. They combine chunks of avocado with spring mix, quinoa, nuts, and crunchy croutons, and coach you on what kind of dressing to drizzle over the top. Whoever said salads were boring was totally wrong. Some of the recipes you can watch even suggest herbs you can add to your salad, like basil or a dash of chives.
To say the least, when you check out these hot girl summer salad recipes, and then try them out for yourself, you may have a lot of trouble romaine-ing calm. If you have time on your lunch break, post a video on your own TikTok about your fabulous creation. From a Hot Girl Summer salad to an Asian cucumber salad, these TikTok recipes are a must. Without further ado, here are the summer salad recipes on TikTok you should watch and try in the next few months.
This article was originally published on