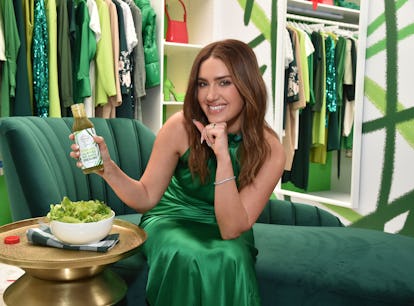 Tinx's Tabasco Hot Sauce Dressing Will Seriously Upgrade Your Salad
Consider hot sauce as dressing normalized.
Courtesy of Tabasco
We may receive a portion of sales if you purchase a product through a link in this article.
TikTok creator Tinx believes every friend group has a "designated hot sauce friend" (ya know, that friend that puts hot sauce on everything), but no one is doing it like her. The social media star tells Elite Daily she's been putting Tabasco on everything from salads to "random fish dishes" for longer than she can remember, and anyone who follows her knows Tinx has been leading the charge to "normalize hot sauce as dressing" for years. It was only a matter of time before the beloved TikToker teamed up with the hot sauce giant to bring her vision to life, and it finally happened on Feb. 1 with the launch of a new Avocado Jalapeño Hot Sauce Dressing collab. "It's been a science project in my kitchen for a while now, so it's very cool to see it come to life," Tinx tells Elite Daily about her new Tabasco hot sauce dressing.
Made with Tabasco's Green Jalapeño Sauce, avocado, olive oil, apple cider vinegar, lemon juice, and herbs, the new Tabasco x Tinx Avocado Jalapeño Hot Sauce Dressing is packed with flavor, and just the right amount of heat. In Tinx's words, the dressing is "herbacious, zesty...all the good adjectives to describe it." Available now on Amazon for $9.99, the 32-year-old has been perfecting this recipe long before she became TikTok's self-proclaimed big sister. "I would always be mixing the end of a Tabasco with olive oil to try and make a dressing, or just straight up using Green Tabasco as dressing," the hot sauce devotee dishes to Elite Daily.
It's undeniable that the condiment has played a big role in many of Tinx's core memories, like when she would add Tabasco to almost every meal in her sorority kitchen, to all the times her mom would ask her, "'Are you putting hot sauce on your salad?'", and she'd simply respond, "'Yes, yes I am.'" If that doesn't convince you she's the ultimate hot sauce stan, then maybe her beautifully bejeweled Tabasco bottle will, which she uses as a repurposed salad dressing dispenser. She even tells Elite Daily that there's "nothing [she] wouldn't put hot sauce on," not even ice cream. So ya, she's the real deal, y'all.
Of course, there's no better way to enjoy a dressing than on a salad, and Tinx has the perfect recipe for that, too. The dish, which she calls her "Hot Girl Salad," can be made with:
Two cups of mixed greens
1/3 cups of halved cherry tomatoes
1/2 of a thinly sliced radish
One sliced green onion
1/2 ripe avocado that's been pitted and sliced
Four de-shelled shrimp
Drizzle Avocado Jalapeño Hot Sauce Dressing on top
If you're looking to go full Tinx-core, eat the special salad with a spoon so you can scoop the leftover dressing from the bottom of the bowl when you're done.
Sure, hot sauce and dressing might seem like an odd combination to some, but the innovative pairing has some serious potential to spark a movement. "It just makes your salads more fun. It's no more sad salads 2023. It's important we have no more sad salads," she says.
Don't wait too long to snag a bottle for yourself, because the Tinx-approved topping is only available for a limited time. Plus, the first 10,000 orders will come with a promo code for a free entrée at Chipotle, a Tinx fave, that can be redeemed in the Chipotle app or online throughout February.
In case you want to Tinx-ify your free Chipotle, Tinx's go-to order is a bowl with chicken, extra fajita veggies, fresh tomato salsa, tomatillo-red chili salsa, roasted chili-corn salsa, romaine lettuce, and a side of guac — and don't forget to add a dash of your Avocado Jalapeño Hot Sauce Dressing, obviously.