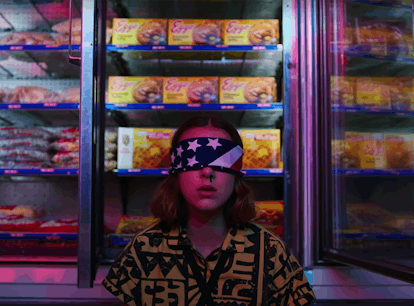 Stranger Things-Inspired Recipes On TikTok For Waffley Good Halloween Parties
Take your festivities to an Eleven.
While Stranger Things Season 4 is not set to premiere on Netflix until 2022, the spooky season is always a great time to revisit Hawkins, Indiana and the Upside Down. You may even want to rewatch the previous seasons with your party crew or host a get-together along with some Stranger Things-inspired recipes from TikTok for Halloween, of course. Just like Eleven is always craving some Eggo waffles, your guests will be hungry for something sweet and savory to snack on while you're hanging out all together.
While there are plenty of Eggo-inspired recipes on TikTok that everyone will love a waffle lot, there are also demogorgon pizzas and Scoops Ahoy milkshakes to give your menu tons of variety. If everyone is 21 and up, you may even want to mix up some Stranger Things drinks for your guests to sip on.
If you're planning a big Stranger Things-themed party, you'll also want to hang up some Christmas lights like in the Byers' home and set up a photobooth with Stranger Things props ($15, Party City) for tons of group pics. Everyone can come dressed as their fave characters, like the Scoops Ahoy crew or Eleven in her pink dress, and dance to '80s tunes like the theme from The Neverending Story. Since you have these nine Stranger Things recipes on TikTok to handle the Halloween food and drinks, you have one less thing to worry about.