'Tis The (Holiday Drink) Season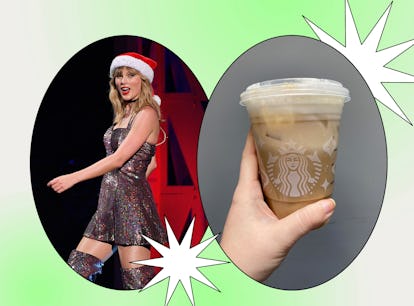 This Starbucks Drink Is Inspired By Taylor Swift's Chai Cookies
It's like Swiftmas in a cup.
Dia Dipasupil/Getty Images Entertainment/Getty Images/Rachel Chapman/Elite Daily
Taylor Swift may be a billionaire pop star now, selling out stadiums all over the world with her Eras Tour, but her story began on a quaint Christmas tree farm in Pennsylvania. She was basically born to be a holiday lover, and celebrates the season each year with her famous chai sugar cookies. Swift shared her viral recipe with fans back in 2014, and while you can always make the dessert at home for yourself, Starbucks also has a secret menu drink inspired by the chai sugar cookies that I had tried.
When Swift first shared her chai sugar cookies with eggnog icing on Instagram, it was during the OG 1989 era. At the time, Swift held listening parties called Secret Sessions where she would serve homemade cookies for her fans to enjoy while listening to the album. Now that Swifties have re-entered the 1989 era with Taylor's Version, it only seems fitting that chai cookies make a return as well. Inspired by Swift's cookie recipe, fans are ordering Starbucks' Chai Tea Latte with a Sugar Cookie Cold Foam on top to create a secret menu Chai Cookie Latte.
This year, Starbucks introduced seasonal versions of their Chai Latte with the Iced Pumpkin Cream Chai Tea Latte and Gingerbread Oatmilk Chai. Each iteration features a flavored cold foam on top, which is basically what this Swift-inspired Chai Cookie drink is. All you need to do to order your own is customize an Iced Chai Tea Latte with the holiday Sugar Cookie Cream Cold Foam on top.
The Taylor Swift Chai Cookie Latte Needs A Permanent Spot On Starbucks' Holiday Menu
I've tried both the pumpkin and gingerbread versions of Starbucks' chai, but this secret menu sugar cookie one is even better. In fact, I think Starbucks should permanently add it to their official holiday menu and bring it back year after year.
The combo of the Sugar Cookie Cream Cold Foam with the chai really does make it taste like you're drinking Swift's cookies. I finished my grande sized drink so quickly that I wished I had ordered a venti. It is like a dessert in a cup, so if you're not a fan of super sweet lattes, this may not be the drink for you — even if you are a Swiftie. This sip is for fans of chai lattes looking for a holiday version to enjoy in between ordering the gingerbread one.
Some fans have also ordered their drinks with the Red and Green Sprinkles on top, but unless you're all about the aesthetics, you can save your 50 cents. The grande version of the secret menu sip is $7, so it is a bit pricey, but well worth it for a holiday treat. Plus, it's the perfect drink to enjoy as you listen to Swift's song "Christmas Tree Farm" or "'tis the damn season" — depending on your holiday mood — and getting ready for Swiftmas.