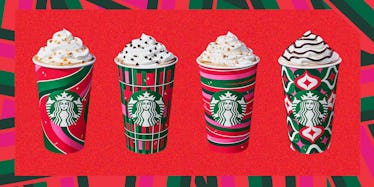 I Tried Starbucks' 2023 Holiday Menu, Including The New Drinks
There's a new gingerbread latte in town.
Courtesy of Starbucks
Red cup season is getting even more festive at Starbucks this year, thanks to the long-awaited return of a fan-fave flavor. Following numerous TikTok dupe recipes and petitions calling for the return of the Gingerbread Latte, Starbucks' Holiday 2023 menu is gifting coffee fans not one, but two new gingerbread drinks. In addition to an Oleato olive oil-infused version of the Gingerbread Latte, Starbucks dropped an iced gingerbread chai drink that'll make your wintry morning wake-up merry and bright. Ahead of the holiday menu's official launch on Thursday, Nov. 2, I got to try and review both new drinks — Starbucks' Iced Gingerbread Oatmilk Chai and Oleato Gingerbread Oatmilk Latte — to see how they compare to the OG latte.
ICYMI, Starbucks stans — myself included — had all but given up hope that the Gingerbread Latte would be making a comeback after the company left it off the holiday drinks lineup four years in a row. The new iterations have some different ingredients compared to the original formula, so I went without my normal morning caffeine fix ahead of the taste-test to pick out my new seasonal fave.
Starbucks' Iced Gingerbread Oatmilk Chai Review
It was in the 70s when I went for my Starbucks tasting, so I was happy to try an iced holiday drink (you can also order it hot) with major winter wonderland flavor. The drink looked pretty much like an iced chai tea latte, topped with a layer of frothed oatmilk and sprinkles of warm cinnamon powder. At first sip, the Iced Gingerbread Oatmilk Chai hit my tastebuds with a burst of cozy spices. While the drink was a little sweeter than I'd expected, I enjoyed the combo of cardamom, cloves, star anise, and black pepper, which really complemented the black tea and creamy oatmilk base of the chai tea.
I could taste slight notes of ginger, but the gingerbread flavor was definitely the second character in the mix, thanks to the boldness of the other spices. I still enjoyed this drink, though, thanks to how refreshing it was while still having those cozy sweater weather flavors you're craving around the holidays. Personally, I think this would also be a great fall drink since a chai tea latte is one of my autumn faves.
Starbucks' Oleato Gingerbread Oatmilk Latte Review
I wasn't sure what to expect from an Oleato version of Starbucks' Gingerbread Latte, as the savory olive oil flavor was pretty prevalent in the retailer's inaugural Oleato drinks I tried this past spring. Taking my first sip, I was pleasantly surprised that the olive oil flavor was noticeably toned down, just hanging out in the background as a subtle savory element to the drink. It also paired well with the frothy oatmilk topping dusted with cinnamon spice, which added a hint of sweetness and texture to the drink without being overwhelming or cloying.
Overall, this drink actually tasted like a slightly upgraded version of the OG Gingerbread Latte — and it's officially my new fave holiday sip at Starbucks. The gingerbread flavor was pretty strong without tasting artificial, and the combo of smooth, strong espresso, oatmilk, and olive oil worked really well together. I actually finished my Grande Oleato Gingerbread Oatmilk Latte in just 20 minutes, and immediately felt like turning on some Christmas music and balsam fir candles when I got home.
If you're not a big gingerbread drink girlie, you can still deck your Starbucks caffeine runs with all the festive flavors starting Nov. 2. Returning holiday faves like Starbucks' Peppermint Mocha, Caramel Brulée Latte, Chestnut Praline Latte, and Iced Sugar Cookie Almondmilk Latte will also be on the menu, and served in 2023's red cup designs — which include your choice of Peppermint Swirl, Bauble Wrap, Party Plaid, and Ribbon Spool — which have a fun Barbiecore color scheme this year.
Otherwise, Sbux stans going for a caffeine run on 2023's Red Cup Day, which is rumored to be on Nov. 16 this year, can try any of Starbucks' new and returning holiday drinks in a free reusable cold cup.
Meanwhile, espresso 'tini drinkers will want to head to Starbucks Reserve locations in New York City, Chicago, and Seattle for a brand new Peppermint Mocha Espresso Martini, as well as a Reserve Peppermint Mocha and Oleato Whiskey Barrel-Aged Cold Brew this winter.