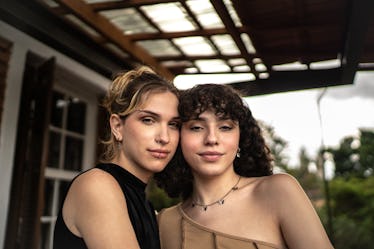 How 2023's Final Eclipse On Oct. 28 Will Affect Your Zodiac Sign
Since Scorpio season began, everyone's ability to lock in on their goals and desires has been at an all-time high. The Mars-ruled, water sign has amped up everyone's desire to get to the bottom of any topic or interest that has captured your attention this time of year. Surface-level conversations may not be enough to keep you engaged now; instead, you might find yourself leaning into the parts of life that require complete tunnel vision. However, as the October 2023 lunar eclipse prepares to illuminate the cosmos, every zodiac sign will be encouraged to focus more on pleasure rather than the aspects of life that can carry a lot of emotional weight. So, if you've been obsessing over *that* toxic ex or your favorite true crime podcast, now is the time to focus your efforts more on fulfilling your needs in a tangible, materialistic sense.
The final eclipse of 2023 will reach its peak in the fixed earth sign of Taurus, illuminating what you crave in order to feel safe, comfortable, and well-supported. Since this is the sign of the moon's exaltation, there's a desire to accumulate more security in life. Since Scorpio season tends to shift your attention more toward the facets of life that are unearthly, it can oftentimes separate you from your most sensual urges. As this eclipse unfolds in every zodiac sign's birth chart, what you've been craving will be placed front and center, making this a fortunate time to refill your cup.
A lunar eclipse happens when there is a full moon that occurs at the same time that the Earth, sun, and moon are in alignment. When this takes place, the Earth moves between the sun and the moon, causing the Earth to cast a shadow across the moon, preventing it from being fully illuminated by the sun. Since this is a partial eclipse, there will be a portion of the moon that won't be covered by the Earth's shadow.
When Does The October 2023 Lunar Eclipse Take Place?
On Oct. 28 at 4:24 p.m. EST, the year's last lunar eclipse will reach its peak at 5 degrees, in the sensual sign of Taurus. This eclipse will be visible across the world, but mainly in America, Europe, Africa, Asia, and Australia. During this supercharged full moon, the needs and desires of every zodiac sign will be illuminated. Now is the time to refocus on what satisfies and sustains you, whether it be something emotional or tangible. This eclipse closes out the cycle that began back in 2021, when the North Node was in Taurus. While the collective focus has since shifted, this lunation is your final reminder to not deprive yourself of what you want, even if it seems vain or materialistic.
Here's how every zodiac sign will be affected by October 2023's partial lunar eclipse:
Aries Zodiac Signs (March 21 - April 19)
As the eclipse unfolds on Oct. 28, you'll be prioritizing your money, resources, and values. During this supercharged full moon, there will be a strong desire for you to find comfort and security in your possessions. You may be experiencing a monumental change regarding your income, or securing a purchase that supports your desire for stability. Pay close attention to what your craving today, Aries — it may be something you've been deprived of for awhile.
Taurus Zodiac Signs (April 19 - May 21)
You're the main character during this month's lunar eclipse, Taurus, and as it unfolds in your first house of self-expression on Oct. 28, your own needs and desires will be placed front and center. If you've been overly consumed with the relationships you're a part of, this full moon serves as an opportunity to reconsider what you need in order to feel the most satisfied. How are you making sure that you're finding pleasure in life autonomously? While connections with others are important, you'll want to make sure you're not over-relying on other people to keep you happy.
Gemini Zodiac Signs (May 21 - June 22)
On Oct. 28, the Taurus lunar eclipse illuminates your desire to duck off and unplug from the outside world. As the curious, social sign of the zodiac, you sometimes overlook the pleasures that your private life has to offer. On this day, you'll be inclined to treat yourself behind closed doors. Book a massage, or cook dinner with a loved one. Anything that allows you to sit back and relax without the pressures of being perceived.
Cancer Zodiac Signs (June 22 - July 20)
You'll be seeking pleasure and comfort through your friendships and alliances during the Oct. 28 full moon in Taurus. As your chart ruler, the moon, reaches its peak on this day, you'll be considering how you can best indulge in the long-lasting connections you've developed. You may be spending time with friends today, or engaging in a networking opportunity that has prolonged benefits. Either way, your community is where you'll feel the most at home today.
Leo Zodiac Signs (July 20 - Aug. 21)
On Oct. 28, the Taurus lunar eclipse will magnify your desire for long-term stability and satisfaction in your career and professional life. This lunation could signify a shift in your current occupation that better aligns with your need for security and pleasure in your work. You may also be gaining notability for your achievements here now, placing your talents and gifts front and center. Take some time to bask in your achievements today, Leo. This recognition you're receiving is well-deserved, and your success didn't happen overnight.
Virgo Zodiac Signs (Aug. 21 - Sept. 22)
As the Taurus lunar eclipse takes place in your ninth house, you'll be called to lean into the stability that your current values and belief systems offer. While the energy of today is unwavering, you'll feel the urge to do something out of the ordinary, like take a trip, or try a new food dish. Anything that encourages you to switch things up without pushing you too far out of your usual comfort zone is a good idea.
Libra Zodiac Signs (Sept. 22 - Oct. 21)
On Oct. 28, the lunar eclipse in Taurus shifts your focus toward shared resources and intimate connections with others. You could be making an important purchase with a partner, paying off debt, or opening a new savings account. This eclipse is highlighting your desire for long-term security in your finances, so you'll mainly be concerned with investing in things that will be worth it in the long-run.
Scorpio Zodiac Signs (Oct. 21 - Nov. 22)
Your romantic relationships and partnerships will be your main priority during the Taurus lunar eclipse, as it unfolds in your seventh house. Expect some important revelations around your bonds with others to take place today, specifically around the comfort and intimacy you crave from them. While you tend to be pretty cautious when it comes to expressing your vulnerable side, now is the time to lean into the support that's being offered to you by your loved ones, Scorpio. Feel free to get up close and personal to the people who have proven that they can be trusted.
Sagittarius Zodiac Signs (Nov. 22 - Dec. 19)
On Oct. 28, the Taurus lunar eclipse will unfold, shedding light on your daily habits, routines, and rituals. You'll be taking a closer look at the mundane tasks that make up your life, particularly the ones that stabilize and ground you. It's a good time to prioritize your health, or anything that keeps you functioning at your best. During this time of year, a stricter regimen tends to be exactly what you need, but be sure to leave space for enjoyment.
Capricorn Zodiac Signs (Dec. 19 - Jan. 20)
As the Taurus lunar eclipse takes place, it'll sheds light on your desire for comfort, stability, and longevity when it comes to your passions and pleasures. While you're someone who loves to prioritize productivity, when granted opportunities to let your hair down, you like to indulge to the fullest. Now is a time when you're leaning into fun without too many restraints, so feel free to partake in some of your favorite hobbies, or spend time around your loved ones.
Aquarius Zodiac Signs (Jan. 20 - Feb. 19)
On Oct. 28, as the Taurus lunar eclipse unfolds in your fourth house, you'll be considering how you can embrace more pleasure and satisfaction at home and with your family. You may also experience some revelations around where you currently reside, and could be contemplating making changes that will support your desire for long-term comfort and pleasure.
Pisces Zodiac Signs (Feb. 19 - March 20)
The Taurus lunar eclipse on Oct. 28 sheds light on your current thoughts and ideas, bringing an important piece of information to light. You've been exploring different concepts throughout the month, and on this day, you'll be implementing some of this information into your daily practice. This is also a good time to discuss or share your findings on your current perspectives with your community. You'll have a lot on your mind today, so it'll be important to have an outlet.