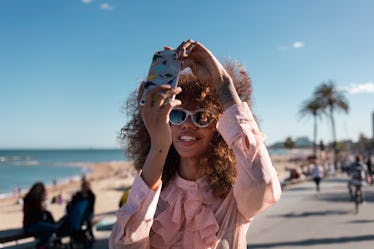 16 Instagram Reel Ideas That'll Keep Your Summer Vibe As Cool As A Popsicle
Ditch the photo dumps for a fun video montage.
Westend61/Westend61/Getty Images
Posting selfies and photo dumps on Instagram is fun and all, but it can be exciting to try a new way of sharing your favorite memories to your feed. If you haven't really tried out the Reels feature on Instagram or are a complete newbie, this is your sign to give it a whirl this summer to capture all the fun you'll be up to. The feature is curated and crisp like your fave influencer's IG feed, and you have the entire library of story effects and fonts you can use in your creation. It might be somewhat overwhelming at first to figure out how to record eye-catching video clips within the app and piece them together, let alone come up with an idea. We've got you covered with 16 Instagram Reel ideas for summer to get the creative juices flowing.
Start dreaming up cool Reel transitions to do with your hoodie or setting your phone up so the self-timer can work its magic in a bloomin' field of wildflowers. Of course — like anything else you may post on social media — Reels is not one, giant competition to go viral. You should create what makes you happiest and what best reflects your personality. Although these ideas for summer-themed videos are here to give you some inspiration, let your own individuality shine. That's why your followers are there in the first place.
Wherever you end up this summer, remember to pull out your phone to capture glimpses of an unforgettable memory on camera. Then, you can choose from these summer Reel ideas based on what you've collected, and edit your clips together for an eye-catching video post on Instagram.
This article was originally published on