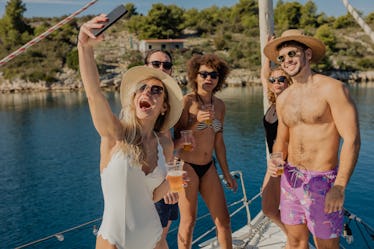 11 Trending TikTok Songs And Sounds To Try With Your Summer Squad
Show off your epic summer 2022 memories.
SimonSkafar/E+/Getty Images
You and your friend group have a whole summer full of pool parties, adventures, and celebrations ahead of you. You spent all spring counting down the days to vacation, and now it's finally time to live in the moment and make the most of summer 2022. With all these exciting new memories in-store, make sure you document everything you'd like to look back on, from the beautiful sights you'll visit, to your squad's summer vibe. To accompany your videos, check out these trending TikTok songs and sounds for summer 2022 for inspiration.
Remember these fun TikTok challenges with you on your trips together so there's never a dull moment. Creating TikToks with your besties is a great way to pass the time and get everyone involved, whether you're waiting at the airport or in a long line for a rollercoaster at Disney World. All you need is your phone, a little imagination, and your favorite crew.
When you're choosing the perfect TikTok sounds to record with, take inspiration from the songs of the summer, like music from Harry Styles, Lizzo, or the soundtrack to Stranger Things Season 4. You can match each TikTok sounds to match your friend group's vibe; are you a traveling group of comedians, an aspiring pop girl group, or simply a collection of hot-mess misfits? Try out these TikTok challenges for summer 2022 to show off your squad and epic summer memories.