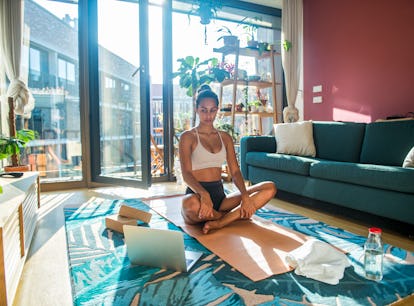 How To Do TikTok's 3-2-8 Barre Pilates Workout For A New Year Burn
Don't forget your hot girl walk!
DRAKULA IMAGES/Moment/Getty Images
Anyone on the fitness side of TikTok may have heard about the 12-3-30 treadmill workout going around the FYP. While the 3-2-8 barre Pilates workout from TikTok sounds similar, it's actually quite different. Aside from the obvious Pilates versus treadmill, the 3-2-8 Pilates method is actually a workout plan rather than a routine. The numbers don't represent incline, speed, and workout time, but rather full-body weighted workout days, Pilates days, and a step goal.
The beginning of the year is traditionally a time when people are looking to get more organized and active. The 3-2-8 barre Pilates method is a great tool for both New Year's resolutions. It not only offers you a plan for how to workout each week, but it's also goal-oriented. Since it offers you tasks to do each day, you'll feel more motivated to actually work out. Let's be honest, it can be difficult AF to work out when you'd rather just watch another episode on Netflix. Luckily, the 3-2-8 Pilates method for the most part is easy to do at home, potentially minus the eight portion. But first, let's go into how to do the 3-2-8 barre Pilates workout so you can customize it to your lifestyle.