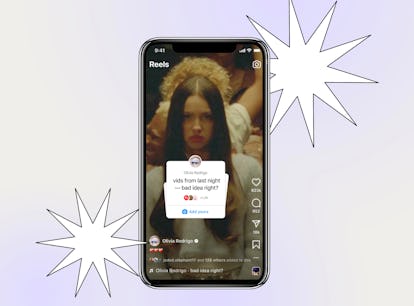 Olivia Rodrigo's New Single Helped Launch A Musical IG Feature
Sharing is the opposite of a bad idea, right?
Instagram/Elite Daily
In celebration of Olivia Rodrigo dropping her new single "bad idea right?" off her sophomore album Guts, Instagram has unveiled three new musical features on the platform. The first and major addition is the option to add songs to your IG carousel posts. Anyone who has used TikTok recently knows that the video-sharing introduced their own version of Instagram carousels earlier this year, which have since inspired photo meme trends on the FYP. A lot of these trends, like the "things I ate and survived" trend that Joe Jonas did, rely heavily on the music playing in the background, and now, IG users will get a chance to add a score to their photo series as well.
The music in carousels feature allows users to add a song that captures the vibe of their pics to play as friends and followers scroll through. So, if you'd like to use your song of the summer to soundtrack a photo dump of your fave pics from June to August, you can. This music feature will likely lead to some hilarious IG trends, just the way it did on TikTok. You could even recreate some of your fave photo series TikTok trends on Instagram now, like sharing your fave friendship bracelets from Taylor Swift's Eras Tour to the song "You're On Your Own, Kid."
In addition to being able to add a song to your carousel posts, now you can add multiple collaborators to your IG posts as well. Before, the Instagram feature only allowed you to add one collaborator, and that Reel or post would show up on their feed. Now, you have to option to invite up to three of your friends. This ensures that your posts are seen by more people who can then like and comment on it.
If you decide to share a Reel, you'll be able to use the third new feature, which is just an upgrade to the "Add Yours" prompt. You've likely seen the "Add Yours" sticker on friends' Instagram Stories, calling for followers to add their own photos to the series. For example, an "Add Yours" prompt can be to share the last photo you took of your pet that's in your camera roll. By clicking on the sticker, you can easily share that photo to your IG Story, and keep the trend going.
With "Add Yours" now available on Reels, you can encourage your followers to share similar videos or copy trends you start. If a creator loves the video you've made, they can pin it to the top of the page. You have the option to pin up to 10 submissions. So, if Olivia Rodrigo starts an IG Reel trend and she likes your submission, you may get recognized by the Sour queen herself and your video will have a prime position up top for all to see. Who doesn't love a little validation and shoutout from their fave artist, am I right? All three of these new features are available for you to use on Instagram now, so go ahead and get to creating. Your first musical carousel post could even be a photo dump of your fave bad ideas set to Rodrigo's new single.