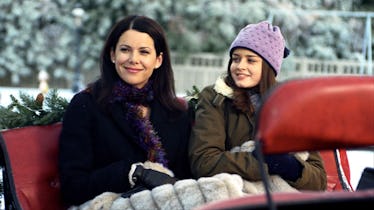 10 Best Gilmore Girls Moments If You Love Winter Just As Much As Lorelai
Who can forget learning Lorelai's superpower?
Netflix
Sorry Luke, but we all know that there is one thing Lorelai loves more than you, and that is winter. Seriously, she can smell when it's about to snow. She practically has a superpower and knows when her favorite season is about to arrive. Lorelai was all about those "winter is coming" vibes long before Game of Thrones was a show, and we totally get why she loves the season so much. If you're as passionate about winter just as much as Lorelai, you can totally relate to the best Gilmore Girls episodes for winter that feature your favorite time of the year.
Let's face it, we loved all of the seasons in Stars Hollow, but there was just something magical about the wintertime. From the different holidays to the events around town, you knew something special was going on. It could be why winter is the first season we get in the revival series Gilmore Girls: A Year in the Life. It's also the perfect season for drinking a nice, hot cup of coffee, which is what we all know is the Gilmores' favorite thing to do. For any of you winter lovers out there, every time you watch these ten Gilmore Girls winter moments that feature the season you love so very much, you want to scream, "Oy with the poodles already." So, grab a cup of Joe from Luke's Diner, cozy up on the couch, and fall in love with winter all over again as you rewatch Gilmore Girls on Netflix for the one millionth time.
This article was originally published on