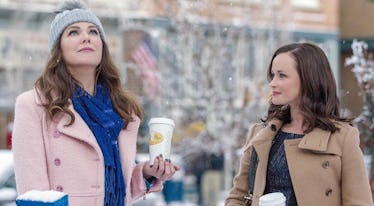 Here Are The Odds Netflix's 'Gilmore Girls' Revival Will Get Another Season
Netflix
In 2016, Netflix shared a welcome surprise for Gilmore Girls fans everywhere: a return to Stars Hollow nearly a decade after The WB series ended. And although the four-episode revival allowed series creator and showrunner Amy Sherman-Palladino to end the series on her terms after all these years, many fans were still left wondering if even more Rory and Lorelai storylines could possibly be in the cards. So, will the Gilmore Girls revival get a second season? Netflix has dropped some hints that another season is a definite possibility.
Netflix's vice president of original content, Cindy Holland, addressed questions about a potential second season for Gilmore Girls: A Year in the Life at the Television Critics Association press tour in 2018. Although Holland confirmed the streaming service was not actively discussing another trip to Stars Hollow with Sherman-Palladino at that time, she did note folks at the streaming service are very much into the show:
"We haven't discussed it at all. But [Sherman-Palladino] knows that we are very big fans of Gilmore Girls," Holland said.
An optimist would say it sounds like there is an opening there. Holland's comment partially echoes a statement Netflix's content chief Ted Sarandos made in March 2017. A few months after Gilmore Girls: A Year in the Life's November 2016 premiere, Sarandos said Netflix was very pleased with the revival series' success, and mentioned he actually had been talking to Sherman-Palladino and her husband, co-executive producer Daniel Palladino, about making a second season. But now it's years after the revival's first season dropped, and it sounds like Netflix is no closer to producing any more new episodes. But still, not all hope of more Gilmore is lost.
More recently, Sherman-Palladino expressed her interest in making a follow-up season during a podcast interview with The Hollywood Reporter in 2019. The creator confirmed she's open to making a second season of the revival and still talks with the main cast about it, adding that she is just waiting for everything to fall into place before rushing in. "It's not anything other than we need the right story, the right format, and the right timing," Sherman-Palladino said. "It's nothing more than that."
Of course, the most obvious thing standing in the way of any potential Gilmore Girls: A Year in the Life Season 2 is Sherman-Palladino's currently running show, The Marvelous Mrs. Maisel. Currently, Sherman-Palladino is in an exclusive contract with Amazon, and her focus seems to be all on Maisel right now, which has earned the showrunner her first real critical success (despite the fan devotion to her other shows for years). The Marvelous Mrs. Maisel has cleaned up at the Golden Globes and Emmys each year since it premiered, and shows no signs of slowing down.
But even though Sherman-Palladino is focusing on Maisel and is signed with Amazon right now, that does not necessarily mean that more Gilmore Girls is out of the question. In fact, Sherman-Palladino made sure to include an escape clause in her contract with Amazon, which allows her to continue working with Netflix if she decides to create another season of Gilmore Girls: A Year in the Life.
The other question involved with continuing the revival is what exactly any new episodes would focus on. The impetus for making A Year in the Life in the first place was so Sherman-Palladino could wrap up the series exactly how she wanted to, since she left the original Gilmore Girls before its last season and famously was unable to air the final four words she had planned from the beginning. Now that those final four words have aired (spoiler: they are Rory revealing to Lorelai that she is pregnant), it just feels like the show has finally reached its true conclusion.
But, there are still ways to keep the Gilmore love going; a new season could focus on Rory's pregnancy, or it could chronicle the early years of her being a mother. Or, Lauren Graham floated the idea that they make a Gilmore Girls Christmas movie rather than a whole new season, just to give fans a chance to check in on everyone and see where they are at in their lives, which would certainly make the jolly season truly the most wonderful time of the year.
This article was originally published on