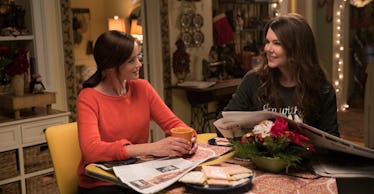 Netflix Wants A Season 2 Of The 'Gilmore Girls' Revival Just As Much As You Do
Netflix
Last year, Netflix gave Gilmore Girls fans something they had been waiting nearly a decade for: the ending to the beloved mid-2000s WB dramedy that its showrunner Amy Sherman-Palladino wasn't able to give us back in 2007. But what if those four extended episodes of Gilmore Girls: A Year in the Life weren't actually the end of the series, but a new beginning? Fans have been wondering whether the revival series will come back for another season ever since it premiered, and it sounds like Netflix may want Season 2 of Gilmore Girls: A Year in the Life more than anyone. But even with total support from the streaming service, what are the chances that Stars Hollow comes back together for another season? Let's break it down.
Although many fans are divided over whether they want another new Gilmore Girls season or not, it sounds like Netflix would jump at the chance to make one. To paraphrase Luke Danes, they're in... they're all in. Why? Well, because it was recently revealed to be Netflix's most binged show ever! The streaming service, which pretty much never releases ratings date, made a rare exception and unveiled its twenty most binge-raced shows (shows viewers started and finished most quickly) since it premiered original content in 2013, via TV Line. At the top of the list is last year's Gilmore Girls: A Year in the Life, followed by other recent additions like Fuller House and The Defenders. The thing that stands out in the list is that Gilmore Girls is both the number one show, and also the only top-binged series not renewed for multiple seasons or given a spinoff.
Now that we have some official confirmation of Gilmore's success on Netflix, it just seems obvious that the network would be pushing for another string of episodes. Netflix's Chief Content Officer Ted Sarandos even came out and stated that he hopes they can make a second season a couple months after the show dropped last November:
We hope [it happens]. We obviously loved the success of the show [and] fans loved how well it was done; it delivered what they hoped.
So with Netflix clearly giving the green light, does that mean we can definitely expect Gilmore Girls: Another Year in the Life to start streaming soon? Not exactly. The real decision lies with GG creator Amy Sherman-Palladino, who is about to launch a new series The Marvelous Mrs. Maisel on Netflix competitor Amazon, after signing a contract with Amazon. According to TV Line, the contract did include an agreement that Sherman-Palladino could get an out if she decides to make another Gilmore Girls season with Netflix, but of course, her main focus right now is on Maisel, which is premiering next month and has already been picked up for two seasons.
The other potential roadblock is getting the whole cast back together — something that came together nicely for the most part for the four-episode revival, but may not be as easy for another season. For one thing, Alexis Bledel was recently promoted to a series regular on the second-season of the Hulu series The Handmaid's Tale, and even took home her first Emmy for her work on the first season. Milo Ventimiglia also has a demanding new TV role as a series regular on This Is Us, and there's Jared Padalecki's ever-present commitment to Supernatural as well. And of course, getting Melissa McCarthy to reprise her role as Lorelei bestie Sookie St. James now that she's shot to success as a movie star was already difficult for one season of the revival.
Lauren Graham actually addressed her thoughts on a possible second season to the revival earlier this year, suggesting that the first season already wrapped up the story nicely for the show:
I don't know if there is a need to do more. I would never want to make it feel like we've overstayed our welcome.
So it sounds to me like we've got split interests here: Netflix is pushing for another season, but the cast and creative team may have moved on for the most part. I guess we will just have to wait and see which force is stronger!