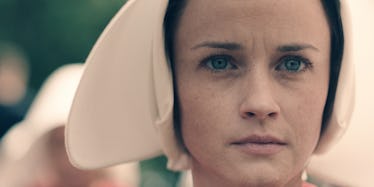 'The Handmaid's Tale' Promotes Alexis Bledel To Series Regular For Season 2
Hulu
Alexis Bledel has officially made the trip from Stars Hollow to Gilead, and it looks like she's going to be sticking around for a while.
A new report from The Hollywood Reporter confirms Bledel will be a series regular on the second season of The Handmaid's Tale.
Bledel starred as Emily/Ofglen/Ofsteven in the recently concluded first season of the Hulu series, a silently rebellious handmaid who is brutally punished for having romantic relations with another woman and informs June/Offred about the Mayday resistance.
Though billed as part of the main cast of Season 1, Bledel actually only appeared in the first half of the 10-episode season. The fate of her character was left in question when she is taken away in Episode 5 after stealing a car for a joyride and killing a Gilead guard in the process.
Prior to that, Emily became the victim of female circumcision as a punishment for being what the authorities in Gilead refer to as a "gender traitor," meaning she slept with another woman.
With this series-regular promotion, fans can expect to see Emily a lot more in the new season. It also pretty clearly confirms she wasn't killed after her joyride. Given Emily has been the June's main source of knowledge about resistance, her return to the main cast likely means we'll be learning a lot more about the Mayday resistance in Season 2.
While this is all great news for The Handmaid's Tale fans, it may not be so great for anyone holding out hope for another run of Gilmore Girls episodes. Now a series regular on a competing streaming service, it doesn't look promising Bledel would be able to film a second GG revival anytime soon.
On top of that, Gilmore showrunner Amy Sherman-Palladino is hard at work on her Amazon series The Marvelous Mrs. Maisel, which was picked up for two seasons after releasing its pilot. Sounds like Gilmore Girls fans are just going to have to keep on waiting.
But in the meantime, they can always check in on Bledel The Handmaid's Tale. The second season of the dystopian drama goes into production this fall.