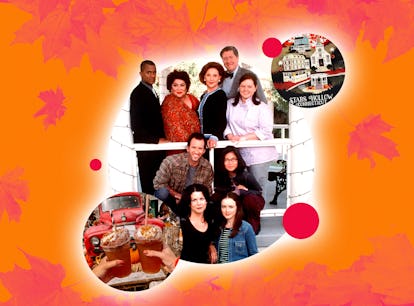 How I Spent 29 Hours In The Real Stars Hollow From Gilmore Girls
'Tis the season to peep some leaves, drink some PSLs, and, of course, rewatch Gilmore Girls. While the beloved '00s dramedy takes place over the course of multiple seasons, it's the quintessential fall show: It's nostalgic, comforting, and set in an idyllic New England town that shines throughout the autumn months. Stars Hollow, Connecticut, brings colorful changing leaves, cozy fall drinks, and arrays of pumpkins to many of the series' most iconic scenes. If you've ever wished you could step through your screen into the charm of Rory and Lorelai's hometown, it's actually (somewhat) possible, because there's a real-life place that inspired Gilmore Girls' Stars Hollow just a couple hours away from New York.
Though Stars Hollow is fictional (Gilmore Girls was actually shot on a Warner Bros. studio lot in California), the show's creator, Amy Sherman-Palladino, has famously said she was inspired by Washington Depot, Connecticut, and the surrounding towns in Litchfield County. Looking for a little fall escape from the bustle of New York City, I put together a weekend itinerary to the area to step into Rory's shoes and was surprised at the similarities to the CW series. There's a quaint downtown lined with small family-run businesses, a picture-perfect gazebo, and seasonal fall festivals that bring the residents together. Sound familiar?
From a café that feels just like Luke's to a bookstore that's basically Rory-coded, here are the places I discovered throughout my Stars Hollow-inspired weekend itinerary:
Saturday, Sept. 16
10 a.m.: I arrived in Washington Depot after a two-hour drive from New York City. Driving through the picture-perfect downtown area and nearby neighborhoods, I was immediately struck by the charm of the small town. It felt like the type of place where everyone knows everyone and the coffee shop barista remembers your daily order.
10:30 a.m.: Strolling around the town square, I channeled my inner Lorelai and sought out some caffeine. I stumbled into Marty's Café, which is thought to have inspired Luke's, the busy diner in Stars Hollow that the show's main characters frequent. Marty's is a bustling neighborhood cafe with an extremely friendly staff, lots of windows, and a coffee bar with a robust selection of drink choices. Along with a grilled vegetable panini ($11), I ordered one of the seasonal specials, a toffee pecan latte ($5.25+), and it was *chef's kiss*.
As locals came and went, greeting each other and catching up over warm mugs of coffee, I felt like I'd really stepped into the world of Gilmore Girls. During my meal, I even saw some locals using Marty's as a meeting spot to partake in a knitting club. Doesn't get cozier than that.
Noon: Properly caffeinated for my Gilmore Girls-inspired day, I walked to Hickory Stick Bookshop, which locals believe is the inspiration behind Stars Hollow Books. I could instantly imagine Rory browsing the shelves looking for her next read. This independent bookshop, which has been in business for more than 70 years, also sells greeting cards and gifts such as candles, local yarn, and picture frames. Since I have a Rory-like fascination with books, I spent some time meandering in the various sections scanning for my next read.
I loved how the bookstore really leans into the television show connection — there's even a Gilmore Girls corner where it sells books and mementos related to the show. My personal fave souvenir: a little light-up Stars Hollow sign ($13).
1 p.m.: I continued to stroll around Washington Depot's town square and the downtown area, popping in and out of shops. Five Janes boutique — a reference to the owner's middle name, which she shares with her grandmother, mother, mother-in-law, and daughter — was definitely Top 3. (Rory and Lorelai would definitely love that family tie, considering Rory is named after her mom, and Lorelai is named after her grandma.) I browsed the selection of clothes, accessories, and gifts, including some Gilmore Girls items like a mug from Luke's. The fall tops and jackets could easily become part of Rory's casual-preppy rotation.
1:30 p.m.: There's nothing quite like window shopping, walking down the street, and popping into stores with cute Gilmore Girls-inspired displays when you've got a little time on your hands. Stuart's Floral, which makes beautiful arrangements for weddings and events and also sells a variety of potted plants and gifts, is a must for any fan. The hanging Stars Hollow signs in the windows and Gilmore Girls merch were super kitschy — but in a cute way.
1:45 p.m.: A visit to Stars Hollow wouldn't be complete without swinging by Doose's Market. IRL, it's Washington Food Market, which has been open for more than 100 years. I did a quick browse down the aisles (sadly, there were no Dean or Kirk sightings), then walked down the street to Washington Supply Co., which is quite possibly the most charming hardware store I've ever seen. It's supposedly the inspiration behind Williams Hardware, Luke's late father's hardware store and the location of his eponymous diner.
4 p.m.: One of my favorite fall episodes of Gilmore Girls, which takes place during Season 5, focuses on the opening day of the local cider mill and a cider mill parade. Since I was in the mood for a drink after spending most of the afternoon walking around downtown "Stars Hollow," I decided to switch things up by going to one of the area's most popular cider mills, Hogan's. It's been making cider since 1912, and it has the cutest country shop with lots of pumpkins, a tasting room, and picnic tables to enjoy either regular or hard cider.
Hogan's is also famous for its "Drunkin Donut," a cider drink that includes an apple cider doughnut and whipped cream on top. (You can order it with or without alcohol.) I grabbed one and explored the farm store, looking through local items like syrup and honey while sipping my cider drink. You could just picture Rory and Lane hanging out here and bantering over the fall treats.
6-8 p.m.: Post-cider-milling, I headed to one of the most famous Stars Hollow locations: The Mayflower Inn & Spa. While I booked a more affordable Airbnb about a 15-minute drive away in Litchfield, it's the ultimate hotel for diehard Gilmore Girls fans to stay at if you're down to splurge for a night or two.
Located right up the road from Washington Depot, the Mayflower Inn is where Sherman-Palladino stayed while she was in Connecticut, and she's said it was the inspiration for the Independence Inn, where Lorelai worked before opening the Dragonfly.
A luxe countryside getaway that's situated on 58 acres, the Mayflower Inn was upscale yet homey without feeling stuffy. Walking around the property, I thought it shared the same style of architecture and warm colonial feel as the inn from the series. You can book a room starting at $780 per night during the peak fall season, or visit to get a service at the accompanying spa, The Well. After a long day of walking, I was happy to have a relaxing hot stone massage.
8:30-10 p.m.: Before driving back to my Airbnb, I ended my night with dinner at The Tap Room, the inn's casual eatery; it serves seasonal New England ingredients from local Connecticut farms.
Sunday, Sept. 17
10 a.m.: As soon as I woke up, I drove to The Pantry, a bakery in Washington Depot that's reminiscent of Stars Hollows' Weston's. There were plenty of cookies, pies, and cakes, and it was easy to imagine Rory shopping here for Lorelai's birthday goodies like she did at her local bakery. I ordered a croissant and coffee to fuel myself for my second Stars Hollow day.
11 a.m.: Less than a 20-minute drive away, I found the star of the show on the neighboring area New Milford's town green: the iconic gazebo that locals believe inspired the one in Gilmore Girls. It was center stage in so many episodes, so I grabbed a pumpkin spice latte from one of the local coffee shops (don't @ me — Lorelai would totally support my coffee obsession) and hung out in the gazebo to just soak in the charm.
1 p.m.: After venturing through the cute downtown area of New Milford, it was clearly time for more cider mill exploration, including Park Lane, which had an older and more vintage feel than Hogan's. There wasn't as much to do as the other mill, but it was incredibly charming and the cider was a refreshing afternoon treat.
I also stopped by Averill Farm; it is located just up the road and has been open since 1746. The 260-acre property is primarily a fruit orchard, so I decided to go apple picking. It also had a small store selling delicious apple cider doughnuts. Three words: ah-maze-ing. I could totally see Rory and Jess walking among the trees (and probably kissing) or Sookie picking apples to use in her latest recipe.
3 p.m.: Belly full of coffee and cider doughnuts, I started my drive back to New York City with a couple bushels of apples and the need to re-watch Gilmore Girls as soon as I got back to my apartment.
Visiting the quaint Litchfield County towns that inspired Stars Hollow allowed me to see how easy it must've been for Sherman-Palladino to be inspired to create the world of Gilmore Girls. The small-town coziness and charming pastoral background made me feel like I was about to run into Lorelai and Rory walking down the sidewalk at any moment — obviously with coffees in hand.