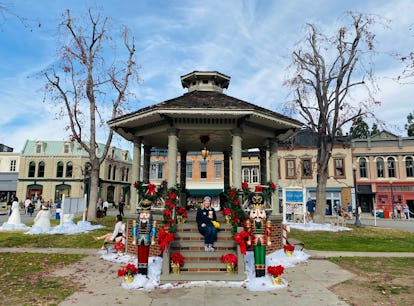 I Visited The Gilmore Girls Set For The Holidays & You Can Too
I had lunch at Al's Pancake World and got coffee from Luke's Diner.
Rachel Chapman
Fans traveling to Connecticut to visit the home of Rory and Lorelai Gilmore aren't able to shop at Doose's Market or grab coffee at Luke's Diner IRL. That's because Stars Hollow is a fictional town created for Gilmore Girls. However, you can visit where Gilmore Girls was filmed at the Warner Bros. Studio in Burbank, California anytime. Right now may be the best time for fans, because for a limited time, Stars Hollow has been recreated on the backlot for fans to see. I visited the Gilmore Girls set for its holiday pop-up, and the immersive experience will make you feel like you're actually spending the day in Stars Hollow.
Talk about a dream come true. Just for the holidays, the Warner Bros. Studios has incorporated a Holidays Made Here section of their tour that allows you to walk around Stars Hollow. It's not just empty sets on a backlot that only eagle-eyed fans will be able to recognize, either. The entire Stars Hollow set has been made over so it looks just like it did in Gilmore Girls. That means you can grab Luke's Diner coffee and browse antiques outside of Kim's Antiques. You can also shop from Doose's Market and pick up some essentials from Stars Hollow Books.
Diehard fans will be excited to see the Gilmore Girls Stars Hollow set even has Al's Pancake World you can eat lunch at. Considering the restaurant known for its international cuisine is never seen on the show, this makes the Gilmore Girls tour at the Warner Bros. Studio a one-of-a-kind experience for fans. The Holidays Made Here experience is part of the regular studio tour that is happening now through Jan. 1, 2023, and tickets are just $69. Along with spotting Gilmore Girls easter eggs around every corner, here is everything you can do in Stars Hollow this season.