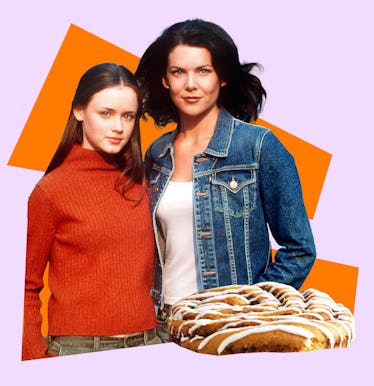 I Tried TikTok's Gilmore Girls Coffee Cake Cookies For The Fall
Channeling my inner Sookie St. James.
Forget Luke, Logan, Jess, and Dean. The one true love for both Lorelai and Rory Gilmore is, and will always be, coffee. It was Lorelai who said, "I need coffee in an IV." So, as you settle down for your yearly fall rewatch of Gilmore Girls, you definitely want to have some coffee by your side. While a cup of your fave brew is a must, you might also want to make a batch of TikTok's Gilmore Girls coffee cake cookies as well. These viral Gilmore Girls cookies from TikToker @thepalatablelife have garnered over 1.2 million likes with comments praising how good the recipe is, so I had to try it for myself.
When I think of the fall, I think of revisiting Stars Hollow with a rewatch, sipping on a PSL, and wearing a cozy denim jacket like Lorelai's or a preppy sweater like Rory's. It's the season of pumpkins and making yourself as comfy as possible, which also includes baking in my house. Finding an easy-to-follow recipe and mindlessly making a batch of cookies while having my fave show running in the background sounds like a dream come true, which is why when I saw these cookies I knew exactly what my after-work plans were. This cookie recipe, which is inspired by coffee cake, has a cinnamon streusel on top with an icing drizzle. For the cinnamon dough, you need the following ingredients:
1/2 cup softened butter
1/2 cup vegetable oil
1 cup brown sugar
1 egg
1 tsp vanilla
2 tsp cinnamon
1/2 tsp baking soda
1/2 tsp baking powder
1/2 tsp salt
2 1/2 cups flour
The streusel will need just:
1/4 cup softened butter
1/4 cup brown sugar
1/3 to 1/2 cup flour
1/2 tsp cinnamon
A pinch of salt
And finally, the icing on top requires:
1/2 cup powdered sugar
1 tbsp milk
A splash of vanilla
Since these coffee cake cookies have three components to them, I assume if Lorelai and Rory were tasked with making them, they'd likely give up right away. After all, we know that Lorelai never uses her oven for its actual purpose of making food. However, each of the three recipes were quite easy to assemble. So, to make these viral Gilmore Girls coffee cake cookies, I had to channel my inner Sookie to see if they're worth serving at the Dragonfly Inn or Luke's Diner.
TikTok's Gilmore Girls Coffee Cake Cookies Review
The hardest part of this recipe was just finding all the ingredients I needed in my kitchen. I was surprised to find that I actually had everything I needed, but it makes sense since I love to bake. Once everything was laid out, I got to work on the dough. I loved how light, fluffy, and non-sticky it ended up being. While my oven was preheating, I worked on the streusel.
The streusel can be tricky. In @thepalatablelife's recipe, she mentions that if your streusel is not crumbling, you need to add more flour. That's why the recipe says 1/3 cup to 1/2 cup of flour. You want to start with the 1/3 cup and slowly add in more as needed till it's 1/2 cup. I definitely needed more, and I still don't know if my streusel had the perfect crumbling texture, but it was passable. You can add in as much flour as you need, according to @thepalatablelife, but she says, "It shouldn't be so crumbly that it won't stick together."
Then, place your dough on a cookie sheet and make an indent in the top for your streusel. Place your cookies in the oven for 10 to 12 minutes at 350 degrees. While they're baking, work on the icing in a separate bowl. Another tricky part of this recipe — if you're impatient like me — is that you must wait for your cookies to cool down once they are out of the oven before drizzling on the icing. This ensures that your icing won't melt onto the cookie and stays Insta-worthy. Having to wait to eat the cookies that were filling up my apartment with the scent of cinnamon goodness was torture, but ultimately worth it for the 'Gram.
And these cookies aren't just pretty — they're heavenly delicious. It truly felt like I was biting into a piece of crumbly coffee cake that just so happened to be a cookie. It was cinnamony and sweet, but not too sugary. I know that Lorelai and Rory have the ultimate sweet tooth and love raiding the candy aisle of Doose's Market, so their threshold for sugar is high. However, I still think these coffee cake cookies would be a dream come true to them. They would definitely want some of Luke's Diner coffee to go with their cookies, and honestly, same. If you're a Gilmore Girls fan or just a lover of the fall and coffee cake, add these viral TikTok cookies to your baking arsenal. They would even pair well with the Starbucks secret menu Gilmore Girls drink for the ultimate rewatch snack combo this autumn.