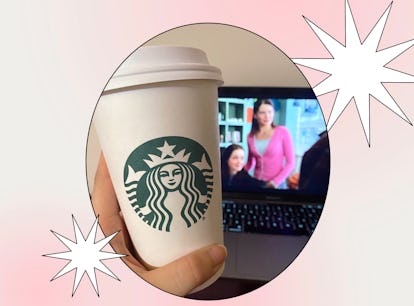 I Tried TikTok's Gilmore Girls Starbucks Drink With Fall Flavors
It's Stars Hollow season yet again.
Everyone knows that the unofficial start of fall is whenever Starbucks releases their Pumpkin Spice Latte menu. Sure, it may still be boiling hot outside and there are a few more pool days on the cal, but you can't wait to throw on your comfiest cardigan, decorate with pumpkin decor, and revisit your favorite autumn series, Gilmore Girls. While Lorelai and Rory Gilmore show us what it's like in Stars Hollow year-round, watching Gilmore Girls has become a distinctly autumn activity for many. And while you could enjoy a cup of coffee like the Gilmores or a PSL now that they're back, you might want to try something new like TikTok's Gilmore Girls Starbucks drink off the secret menu.
This Gilmore Girls Starbucks drink, which comes from barista and TikToker Megan Palluccio (@cozybarista), is a combination of warm apple juice, cinnamon dolce, and chai that's topped with whipped cream and cinnamon dolce sprinkles. Fellow Gilmore Girls fans, like TikToker @emmaxvaughn, have tried the secret Starbucks menu item and can confirm that it "it tastes like Stars Hallow in a cup." As someone who lives for the fall and needs something to get into the autumn mood, I tried the Gilmore Girls Starbucks drink for myself to see if it also reminds me of hanging out with Lorelai and Rory.
TikTok's Gilmore Girls Starbucks Drink Review
As pointed out by several fellow baristas in the comments, the Gilmore Girls Starbucks drink can be easily ordered by starting with their Caramel Apple Spice drink from the hot drink menu. From there, you'll want to customize it with pumps of chai. Palluccio's OG recipe has two pumps of the cinnamon dolce syrup with three pumps of chai, but a grande Caramel Apple Spice comes with four pumps of cinnamon dolce to begin with. Since I wanted to get something as close to Palluccio's TikTok recipe, I took out two of the cinnamon dolce pumps and added in the three pumps of chai.
For a tall, you would only need one pump of chai and a venti would get four. The drink automatically comes with whipped cream and a caramel drizzle, so you'll need to ask your barista for the cinnamon dolce sprinkles. Unfortunately, you can't add the sprinkles on the Starbucks app, but ultimately, they won't change the taste of your drink. They're more for Insta-worthiness, so you can skip if you want to mobile order.
To set the mood, I turned on Gilmore Girls to watch as I drank my $6 Starbucks drink. The first sip was packed with a lot of fall flavor. I could really taste the cinnamon and chai with a hint of the apple juice. While it was autumn-y, it was intense. This isn't an order for those who steer clear of overly sweet Starbucks drinks, but I think PSL fans will love it. If you're looking for something to sip on year-round when your beloved Pumpkin Spice Latte is off the menu, you can always order the Gilmore Girls Starbucks drink since it's available 365 days of the year.
This was a sipper for me, which means it had so much flavor that I had to sip it slowly as I rewatched Gilmore Girls for the first time this season. While the drink definitely had Stars Hollow vibes, it must be said that this isn't a coffee drink, which means it can't be a perfect Gilmore Girls order. As any fan knows, Lorelai and Rory Gilmore are coffee fanatics who drink several cups a day from Luke's Diner. They probably wouldn't order this over their go-to black coffee, but it does taste like something that would be served at the Stars Hollow Autumn Festival, like the Founders Day Punch.
To really feel like you've stepped foot in your fave TV show, I highly recommend booking an Airbnb in Connecticut, stopping by Yale to pick up a sweatshirt, and drinking TikTok's Gilmore Girls Starbucks drink as you walk around town, shopping at various book and antique stores. Wherever the Gilmore girls lead, I will follow.