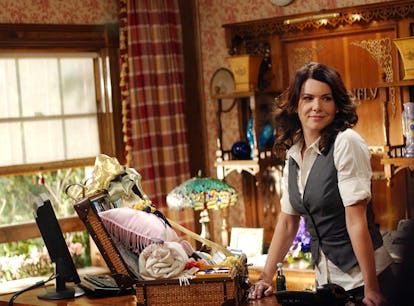 Love Gilmore Girls? These 11 Airbnbs Will Transport You To Stars Hollow
If you're out on the road...
The CW
Autumn was made for pumpkin spice lattes, cozy oversized sweaters, and a marathon-watch of every Gilmore Girls episode ever. Of course, Gilmore Girls: A Year in the Life showed fans that every season can be a Gilmore Girls one, but there's just something about the fall that makes it the perfect time to visit Stars Hollow. Just imagine drinking Luke's Diner coffee while walking through town as everyone is setting up for the Autumn Festival. While Stars Hollow may be a fictional place, there are Gilmore Girls-inspired Airbnbs in Connecticut you can visit IRL to feel just like Lorelai and Rory.
Actually, a Gilmore Girls weekend getaway with your bestie sounds like the perfect way to kick off the PSL season. Stay at a cozy Airbnb in Connecticut that either gives off Dragonfly Inn vibes or reminds you of the Gilmore home in Stars Hollow. When you're not drinking coffee and eating PopTarts while wrapped in a blanket, you can explore any local diners or antique stores like Mrs. Kim's. Keep in mind the Centers for Disease Control and Prevention (CDC) recommends you should delay any travel plans until you're fully vaccinated, but a lowkey retreat with the Lane to your Rory sounds like the ideal vacay. Just make sure to follow all local COVID-19 protocols.
Depending on where you end up, you could attend a fall festival similar to one of the many festivals Stars Hollow puts on every year, or you could make a run to the closest Doose's Market to grab tons of snacks for a movie night in. The first step in planning a Gilmore Girls fall trip is picking out one of these 10 cozy Airbnbs in Connecticut. After that, the rest of the plans are sure to fall into place.
The CDC recommends traveling only after you're fully vaccinated and your vaccine has become fully effective. If you're not fully vaccinated and must travel, check the CDC guidelines before you book. Check your destination's vaccination and testing requirements before you depart.
This article was originally published on