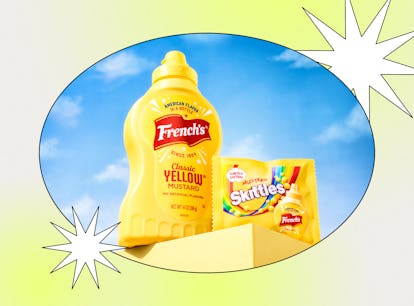 I Tried French's Mustard Skittles & The Flavor Is *So* Intense
Courtesy of French's/Elite Daily
I have a pretty open mind when it comes food collabs, and have taste-tested everything from Swedish Fish Oreos to avocado cupcakes from Sprinkles. So, when a limited-edition French's Mustard Skittles was announced, I knew I had to try that as well. French's is known for their yellow mustard that pairs with savory foods like burgers and soft pretzels. While some people prefer ketchup on their hot dogs, I'm more of a mustard girl, so I was super excited to see if that love also transferred over into the mustard candy category.
In the past, French's has celebrated National Mustard Day on Aug. 5 with mash-ups like Mustard Ice Cream and viral Mustard Donuts. This year, you can actually get your hands on a pack of mustard Skittles at one of the French's Mustard Mobile pop-ups happening now through National Mustard Day. The first stop of the Mustard Mobile bus was in Atlanta on July 31, but the French's experience will be traveling to the Washington, D.C. City Center on Aug. 2 followed by New York City's Hudson River Park on Aug. 5. At each location, fans get a chance to try the new French's Mustard Skittles and walk away with some swag as well.
Leading up to the launch, I was able to try the French's Mustard Skittles to see if they're any good, and let's just say, I was not prepared for all the flavors inside.
French's Mustard Skittles Review
When it comes to viral and unusually-flavored foods, I like to put them into two different categories. The first one is when a company actually makes a solid effort in trying to blend the strange flavor pairing together, so it kind of works. The other is when a company just throws two strong flavors together and hopes for the best. I think the French's Mustard Skittles falls into the latter category.
I really thought the mustard Skittles would be like a regular Skittles candy with a hint or subtle aftertaste of tangy mustard flavor. However, it's all mustard, and it's a lot. The flavor, which actually seemed to grow in my mouth over time, was kind of peppery before I really got the tangy French's mustard flavor. Then, it was weirdly spicy. I don't think I've had yellow mustard on its own, but I'm sure it's not spicy like the mustard Skittles. The heat isn't too intense — rather, it's surprising and kind of creeps up on you at the end.
Ultimately, French's mustard Skittles is just something to try so that you can say I've had mustard Skittles and survived. Just like TikTok's viral Oreos with mustard is not a perfect pair, I would say mustard and Skittles are better off as friends — who aren't at the same dinner party.