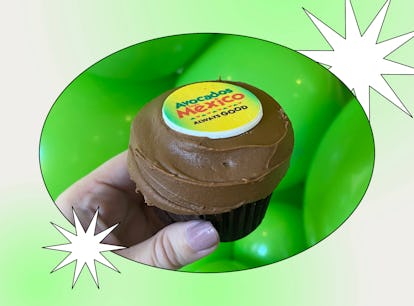 I Tried Sprinkles' Avocado Cupcake & The Flavor Was Surprising
Get this limited-time treat starting on National Avocado Day.
Rachel Chapman/Elite Daily
Avocados are good in guacamole, on toast, and sliced on top of a salad, but you may not think of an avocado right away when you think of cupcakes. However, Sprinkles Cupcakes is about to change all that for National Avocado Day. Starting July 31, the bakery chain is offering an Avocados From Mexico cupcake, and I got to try it early to see what it tastes like.
The Avocados From Mexico cupcake will be available in stores nationwide for one week only, beginning on National Avocado Day. The cupcake isn't avocado flavored, but it uses the ingredient in the chocolate frosting to enhance its creaminess. The cake itself is banana nut with a surprise dulce de leche core, and it's topped with their signature edible circular sprinkle with the Avocados From Mexico logo on top. As someone who became a huge avocado fan after moving to Los Angeles (you kind of have to) and who's also a lover of Sprinkles speciality flavors, I was super excited to try this new treat.
Avocados From Mexico hosted a pop-up event in Los Angeles at the Sprinkles' Beverly Hills flagship store where invited guests got to not only taste test the new cupcake but also attempt frosting their own. Here's exactly what the Avocados From Mexico Sprinkles cupcake tastes like.
Sprinkles' Avocados From Mexico Cupcake Review
Avocado is actually ideal to use to replace eggs and butter in baking — not only is it considered a good fat and full of fiber, but the consistency also makes your desserts extra creamy and delicious. That was definitely the case with Sprinkles' limited-time cupcake. The frosting, which was made with chocolate, avocado, and chipotle, was so smooth that spreading it on top of the cupcakes was like moving around a cloud. It was also delicious. It tasted like Sprinkles' regular chocolate frosting, but had a kick to it with the chipotle. It was like having a really good Mexican hot chocolate on top of a banana nut cake.
The cake itself was what you would expect and reminded me of banana bread with pecans. The dulce de leche was a nice touch at the center that just added even more flavor to the experience. You would think with everything going on, it would be too much. However, I felt like all the flavors worked together well. It also kept the cupcake exciting. You got the crunch from the pecans, the richness from the chocolate, a surprise sweetness from the dulce de leche core, and a spicy ending from the chipotle frosting.
The banana wasn't strong enough to remind of a chocolate covered banana treat, but that was probably for the best since one more main character would have made this cupcake too much. To celebrate National Avocado Day, pick up a few Sprinkles cupcakes to enjoy with your besties while sippin' on some spicy avocado margaritas or Kourtney Kardashian's avocado smoothie. That sounds like all I've avo wanted.