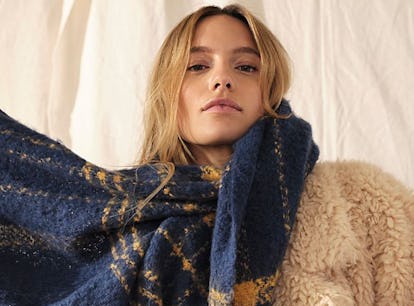 15 Fashion Accessories For Holiday Gifts Under $100 That *Everyone* Could Use
Free People
Giving solid, thoughtful gifts is a talent. An art form, if you will. And there's no better feeling than knowing you absolutely nailed a present. But, while I love showering my friends and family with gifts, that doesn't mean I'm always very good at it. This year, as I drown in gift lists, scroll through product roundups, sleuth, and do just about anything else I can to up my holiday shopping game, one thing I'm confident that pretty much everyone on my list always loves is some fresh fashion accessories as holiday gifts. TBH, the hardest part of shopping for these items is giving them away.
When you have a big family, on top of an ever-growing list of loved ones to gift to, it doesn't take long for holiday shopping to get pricey. And, as much as everyone loves a gift card, there's something so touching about a gift that perfectly matches your loved one's energy. That's why I'm leveling up with some amazing fashion accessories as holiday gifts because they run the gamut of every possible vibe your giftee could want to embody. Not to mention, you'll get to see them rock it all the time. All you need to know is their taste.
No matter who's on your list, these fashion accessory holiday gifts will be the cherries on top of their holiday wardrobes. And with all of the below gifts retailing for under $100, you don't even have to empty out your savings.
We only include products that have been independently selected by Elite Daily's editorial team. However, we may receive a portion of sales if you purchase a product through a link in this article.
1. Trendy Sunglasses
You simply can't go wrong with a pair of sunglasses, but to really make an impact, give the Y2K lover in your life these Vogue Eyewear sunglasses ($56, Sunglasses Hut). The pink and cheetah-print combo is daring and will make them an instant favorite of their new owner. Plus, the micro-style is straight out of a Spice Girls music video.
2. A Retro Fanny Pack
Igloo's Retro Fanny Pack ($20, Igloo) is more than just a colorful addition to any outfit; it doubles as an actual cooler. Its interior is insulated, so you can toss in a few beverages to grab a cold drink throughout the day. Your giftee will truly never need another bag again with this around their waist.
3. Harry Styles-Inspired Earrings
If you have any Harry Styles-obsessed loved ones in your life (so... everyone?), Artbyzahideshops's Harry Styles Earrings ($16, Etsy) may be just what the gift doctor ordered. Beyond being a funky addition to any outfit, these "Fine Line"-inspired earrings will signal to all other fans which member of One Direction still holds your heart.
4. Timeless Loafers
One type of shoe that never seems to go out of style is loafers. While timeless, the vintage style has recently come back with a vengeance, due, in part, to the fact that loafers work with nearly every outfit you can think of — going to the office, having brunch, or even a night on the town. ASOS' Malik Chunky Loafers ($45, ASOS) take this classic silhouette and add a little platform for extra height and comfort — a refreshingly modern take on this ageless shoe.
5. A Printed Bucket Hat
The bucket hat trend is here to stay, but your loved ones may need to update their cap for a more winter-friendly version. To keep their head as warm as can be in the cold winter weather, buy your friends Urban Outfitters' Roxxi Bucket Hat ($20, Urban Outfitters). Its faux fur fabric comes in seven groovy prints like florals, zebra, and checkerboard.
6. A Colorful Micro Bag
Micro bags are still all the rage. (Who doesn't love struggling to fit their phone and wallet into one teeny, tiny purse?) You can tap into the trend by getting Zara's Crossbody Bag ($30, Zara) in Lilac. The soft purple shade is soft enough to go with pastel 'fits and bold enough to pop against darker looks. It's the best of all worlds.
7. A Pearl Eyewear Chain
Eyewear chains have emerged back into vogue in a big way, to the point where you can find beaded glasses chains, chunky mask chains, and more glitzy styles from a ton of your favorite brands. To give the gift of extra bling, shop Aerie's Pearl Chain ($16, Aerie). As an owner of eyewear chains, I can confirm they're super convenient.
8. Bright Acrylic Rings
Another retro trend coming back into the fold is acrylic rings. The chunky, colorful jewels have shown up on the hands of internet cool girls Bella Hadid and Emma Chamberlain, so they're about as hip as you can get. Any fashion-loving person in your life will adore stacking on Revolve's Acrylic Ring Set ($23, Revolve).
9. Classy Socks
I can't believe there was ever a time I was disappointed when I got socks as a present; they're now one of my most-hoped-for items. A cute ruffled sock, like one of Mimiyu's Socks ($10, YesStyle), peeping out over a pair of sneakers or heels adds a dash of fun to your outfit.
10. A Warm Scarf
Give the gift of comfort this year with Free People's Blanket Scarf ($48, Free People). Considering this scarf boasts all the coziness of staying in bed all day, your recipient can leave the house in it and be protected from the elements. Plus, it has strong dark academia aesthetic vibes and is made of recycled materials. What more could they ask for?
11. A Vintage-Looking Backpack
This Little Bee Faux-Leather Backpack ($45, More Than A Backpack) is an ultra-cute way for your loved one to keep their stuff within reach at all times. The faux-leather material is sleek, and its vintage look is always in style. The adorable bee detail makes this bag stand out even more.
12. Cool Press-Ons
Rather than book an expensive salon appointment for you and a bestie, bring all the nail care to them with a set of Chillhouse's Chill Tips ($16, Chill House). The pack comes with everything you need to turn your next hang into a glamorous experience. They're no-mess, easy to apply, and reusable for a manicure that just won't quit.
13. A Zodiac Necklace
A sure crowd-pleaser is one of Frasier Sterling's Zodiac Necklaces ($52, Frasier Sterling). You can even get a few for the whole friend group to make everyone happy. Just make sure you have everyone's astrology sign right before hitting purchase.
14. Furry Earmuffs
Winter accessories can feel like a bit of a bummer. After layering on all of your cute clothes, you have to top it all off with some drab beanie and gloves and call it a day. Luckily, INC International Concept's Faux-Fur Earmuffs ($15, Macy's) exist to bring in some style while fending off the cold.
15. Nostalgic Hair Clips
In this maximalist moment the fashion world is going through, there's one last accessory the people on your list need: colorful hair clips. Lately, people have been aiming for Lilly Moscovitz from The Princess Diaries' level of hair decoration. If you know anyone with that energy, they'll appreciate nothing more than art class' Butterfly Clips pack ($7, Target).
This article was originally published on