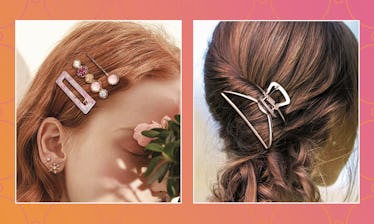 The 8 Best Hair Clips For Fine Hair
From extra-fine teeth to a grippy texture, these clips are designed to stay in place.
We may receive a portion of sales if you purchase a product through a link in this article.
If you have fine hair like I do, you're probably familiar with the challenge that hair clips can present. No sooner have you fastened them down than they've begun sliding down the back of your neck. The best hair clips for fine hair will boast features that provide extra grip, so they're not constantly slipping out of place.
What To Look For When Shopping For The Best Hair Clips For Fine Hair
Be on the lookout for these features, which help to make hair clips grippy for a good hold in fine strands:
Nonslip backing: Hair clips are typically made with smooth materials like plastic, or metal which makes it hard for them to grip your hair effectively. Rubber strips or silicone backing add texture and will keep even baby-fine locks in place better.
Grippy coating: In lieu of rubber or silicone, some hair clips instead have a textured coating that serves a similar purpose, holding onto your hair so they don't slide down.
Narrowly spaced teeth: Large gaps in between the teeth can allow hair to slide through more easily, so if you have fine hair, you may want to go with clips that have closely spaced or even fully interlocking teeth.
Strong spring-loaded hinge: A last thing that can be beneficial, at least for spring-loaded hair clips, is to have an extra strong spring. This allows the clip to clamp down tighter and hold your hair more securely in place.
If you're looking for basic clips to use at home while you're styling your hair (versus ones you'd wear out of the house), you'll also want to ensure they don't leave indentations in your fine hair. Silicone bands can help reduce this too.
Shop The Best Hair Clips For Fine Hair
In a hurry? Here are the top picks for the best hair clips for fine hair:
With these features in mind, I've gathered a selection of the best hair clips for fine hair below. I made sure to include a wide range of styles and colors to help you find something that fits your wardrobe.
This article was originally published on