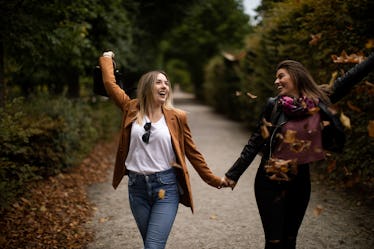 15 Adorable IG Pics To Take With Your SO This Fall Right In Your Backyard
You don't need to travel far for these festive photo opps!
freemixer/E+/Getty Images
Sweater weather is here, and your camera has never been more ready to capture sweet pics of you and your SO. It's sitting on your bed waiting for the moment when you and your pumpkin decide to dream up some creative ideas for fall couples pictures in your backyard. Truth be told, you're so ready to snuggle up with your boo amongst the fall leaves and capture some fresh content for IG, and all you need are some ideas of fall pictures to make it happen.
As soon as temperatures start dropping, you send your SO pics of pumpkin patches, apple cider doughnuts, and your fall bucket list. This list has line items like "make butternut squash soup" and "dress the fireplace up with cobwebs and fake spiders." Of course, it also reads "take photos with *insert your SO's name here*," which is why you're on the Internet searching for adorable and clever fall picture ideas for couples. You could go on your favorite influencers' feeds and get inspired by the fall couples photoshoots they've taken with their significant other kissing caramel apples and holding pumpkins in front of their faces.
These ideas channel that creativity and will help you check items like "snuggle with my boo" off your bucket list as well. Take a look through this list, and then grab your camera and your SO, and then head to your backyard to replicate one of these adorable fall couples photoshoot ideas that'll draw plenty of love on the 'Gram.
This article was originally published on