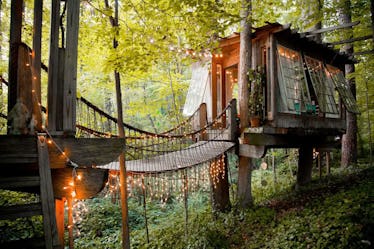 These Cute Cabins On Airbnb Come With Breathtaking Fall Views And Cabincore
Leaf your worries behind.
The ideal weekend getaway allows you to truly get away from it all. It's a chance for you to unwind and unplug from all the stress in your life and just relax. With fall on its way, it's time to swap out your usual tropical vacay and beach stay for something a little more cozy, like a stay at a cute Airbnb cabin. Now that cabincore is the ideal aesthetic you're trying to achieve, why not throw on an oversized sweater, retreat to the woods, and spend the weekend at one of the cutest log cabins on Airbnb?
The snuggle is real when you're living life in a cute cabin. Think of all the pumpkin spice lattes and s'mores you can enjoy while chilling with your favorite people. With some of the coolest cabins on Airbnb, you won't even want to leave. You could spend your days writing or reading your latest novel while sitting next to a warm fire. Of course, you'll also be in nature, so there may be plenty of nearby hiking trails to explore as well if you're feeling adventurous. No matter how you spend your days, you and your best friends can end every evening with a homemade meal followed by a bonfire under the stars.
With all the exciting things you have planned for the rest of the year, the fall really is the perfect time to relax and recharge. Just keep in mind the Centers for Disease Control and Prevention (CDC) recommends you should delay any travel plans until you're fully vaccinated, and you should follow any local COVID-19 protocols when you visit. However, just by staying at some cabins on Airbnb, you'll also be able to fully embrace the season and take in the fall foliage firsthand. The thought of waking up to the vibrant hues of fall leaves right outside your door should be motivation enough to look into booking any of these 15 Airbnb cabins for a weekend well-spent.
This article was originally published on