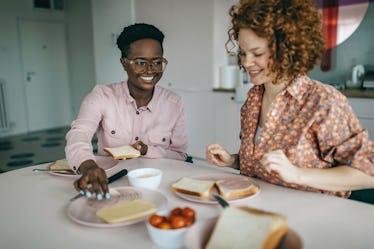 30 Butter Board Captions For When Your Spread Churns You On
A butter board? You bread my mind.
supersizer/E+/Getty Images
If you're hooked on food TikTok, chances are you're all over the new butter board trend. It's basically a charcuterie board, but with an array of different kinds of flavored butter for spreading and dunking your cares away. You can get creative and lay out a bunch of options to butter up your friends at Friendsgiving, complete with rustic crusty bread and salty crackers to makes your butter board udder-ly Instagrammable. The possibilities are endless, so show off your version of the viral trend on your feed with a funny butter board caption for when your spread churns you on.
Now that it's fall, there's nothing better than hosting a dinner party with your butter-halves and making cozy pumpkin soup or fancy and festive cocktails. Butter boards are the perfect appetizer because, well, butter makes everyone happy. You can even go dairy-free with vegan butter board recipes to include everyone in your butter board era. Not only will it taste heavenly, it'll look gorgeous too, so make sure to snap a glamour shot before your besties dig into the creamy goodness. Spread love and butter on your feed with one of these funny butter board Instagram captions, quotes, and puns.
"I can't believe I'm not butter."
"You're my butter half."
"With enough butter, everything gets better."
"Butter is my therapy."
"Did someone say butter?"
"I'll have my butter with a side of butter."
"Butter board, better mood."
"I can't stop spreading jokes about butter. I'm on a roll now."
"'That's too much butter' said no one ever."
"Is there anything better than butter?"
"Spread love and butter."
"A butter palette for your palate."
"We're butter together!"
"A small margarine of error."
"If I'm butter, then he's a hot knife." – Fiona Apple, "Hot Knife"
"Butter me up."
"Did you hear the rumor about butter? Well, I'm not going to spread it."
"You butter back off!"
"Some-butter loves you."
"You churn me on."
"Smooth like butter, pull you in like no other." – BTS, "Butter"
"A butter board? You bread my mind."
"Truth or dairy?"
"In my butter board era."
"My joke about butter was so long, I was thinking about shortening it."
"Slippery when buttered!"
"I've got butter-flies in my belly."
"Bigger. Better. Butter."
"This is how we do butter and toast."
"Is butter a carb?" – Mean Girls