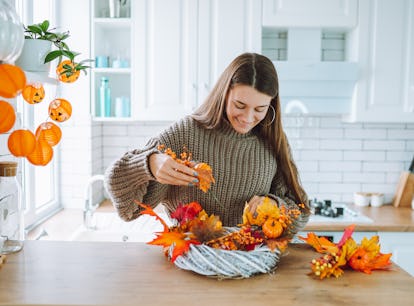 10 Halloween Butter Board Ideas From TikTok For Your Monster Mash
There *butter* be a pumpkin board at every Halloween party.
Olga Rolenko/Moment/Getty Images
Don't be surprised if you see more butter boards at your next get together or party. The viral trend has taken over just in time for the fall season, which means you may even see some Halloween butter board ideas on TikTok start to creep up on your FYP soon.
Dubbed the "new charcuterie board," butter boards were made for sharing and large gatherings. If you haven't been checking TikTok lately, you may not know what a butter board is. Well, a typical butter board is softened butter spread on a charcuterie board or serving tray with different toppings like salt, fruits, veggies, jams, honey, and even edible flowers. You can really get creative with your butter board, and tons of TikTokers have been showing off their aesthetic fall butter board ideas and even some genius cream cheese butter board ideas as well.
With Halloween right around the corner, though, this is the perfect time to get a little spooktacular with your butter board. Whether you decide to go with some Halloween flavors like pumpkin and candy or just spread your butter in a scary good shape, here are 10 Halloween butter board ideas to inspire you to create something ghoulishly good.