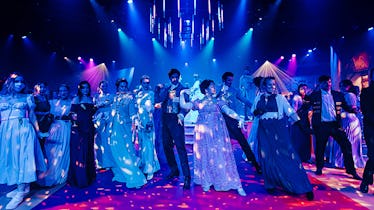 Check Out These Bridgerton Events And Experiences If You Can't Wait For Season 3
Immerse yourself in the ton IRL.
While Bridgerton Season 2 just premiered March 25 on Netflix, it didn't take you long to marathon-watch every episode. You may have even made it through a second rewatch already, or you just keep playing the "you are the bane of my existence and the object of all my desires" scene over and over again. Either way, you can't wait for more Bridgerton. While there is no telling exactly when Season 3 will be released, these Bridgerton events and experiences will help you get your Regency era fix while you wait.
A trip to the United Kingdom may be on your travel bucket list ever since you first watched Daphne and Simon fall in love on Season 1 of Bridgerton. While visiting some of the Bridgerton filming locations may already be on your to-do list, you could also add a few of these Bridgerton events and experiences as well. While in London, you could dance the night away at a Bridgerton ball or go on a walking tour of Bath like you're Lady Danbury taking a stroll through the Ton.
If you don't have any travel plans in your immediate future, there are also plenty of Bridgerton-inspired events and experiences close to home, like afternoon tea where you can sip and spill the tea like you're Lady Whistledown. Pretty much any of these Bridgerton experiences will make you feel like you've stepped inside your TV screen and traveled back in time to the Regency era.
The CDC recommends traveling only after you're fully vaccinated and your vaccine has become fully effective. If you're not fully vaccinated and must travel, check the CDC guidelines before you book. Check your destination's vaccination and testing requirements before you depart.