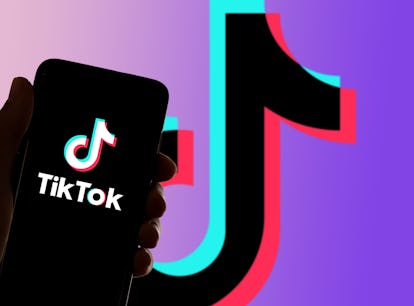 The Best TikTok Moments From 2022 You'll Never Want To Forget
"I can't imagine a more beautiful thing!"
SOPA Images/LightRocket/Getty Images
With the Corn Kid, the Trickster voice effect, and everything in between, TikTok provided so many reasons to keep scrolling through the FYP this year — even when you really needed to get off the app. As the year comes to a close, you might be feeling a little nostalgic for all the TikTok trends that shaped 2022, or you may be having a hard time remembering what the app looked like back in the beginning of the year. But don't worry, because once you check out 12 of the best TikTok moments from 2022, the memories (and the laughs) will come rushing back.
It seems like every other day there's a new video that goes viral on TikTok, which makes it hard to keep track of the trends, sounds, and dances that defined 2022. Thankfully, TikTok released its annual Year On TikTok report on Dec. 6 to remind you of all the most unforgettable highlights and meme-able highlights of the year, from Drew Barrymore laughing in the rain, to Squishy the Chipmunk's return from hibernation. The report also breaks down the top 10 songs you couldn't escape from, though you probably don't need a refresher in that department — those songs will be stuck in your head for years to come.
With so many TikTok "eras" worth celebrating from just one year, it's time to take a walk down FYP lane and look back at all the best filters, sounds, and videos the app had to offer in 2022.
With so many TikTok moments to choose from, it's hard to pick one video from each month. Hopefully, these standout viral moments will remind you of all the fun you had on the app in 2022. Here's to more dueting and stitching in 2023.