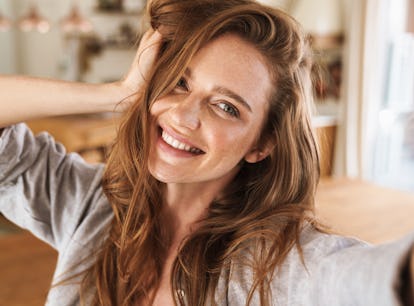 Try These 15 IG Story Filters The Next Time You Take A Selfie
Get that sunkissed glow any time of year.
Shutterstock
Be honest, most of us spend a lot of time on social media — like way too much. It's hard not to, especially if you're hanging out at home, sitting on public transportation, or constantly hearing about the latest, greatest viral trends from your friends. Some of the most addictive social media features these days are the fun, wacky, and flattering Instagram filters and effects you can use in IG stories and selfies. And the worst (or best?) part is there are thousands of them — which is why the search for the best Instagram filters can be so time-consuming.
Long gone are the early days of filters — remember when that puppy Snapchat filter had a serious hold on society? These days, when it comes to finding the best Instagram filters for selfies, there are the hilarious, entertaining ones that tell you who your cartoon parents would be or one that puts a pizza crown on top of your head — best used for occasions such as posting to a finsta or sending a snap to a friend. You can also choose from filters inspired by your favorite celebs such as Billie Eilish, Beyoncé, or Taylor Swift.
However, the best Instagram story filters for cute, flattering shots of yourself will make your face glow by balancing out the lighting in your room for a sunkissed look or adding a touch of grain for a retro vibe. After you share a selfie to your story with one of these filters applied, don't be surprised if you have followers swarming to your DMs. Whether you're looking to post a thirst trap or just spend some time snapping pics to hype yourself up, these 15 Instagram filters will definitely be fun to mess around with the next time you take a selfie.
This article was originally published on