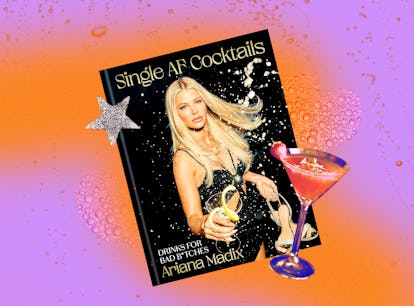 Ariana Madix Shares The Perfect Drink For Any Relationship Status
She says working on her Single AF Cocktails book was "cathartic, boozy, and fun."
Lais Borges/Elite Daily; Getty
Vanderpump Rules' Ariana Madix is the queen of taking a bad situation and turning it into a major glow-up. Learning about her longtime partner, Tom Sandoval, having an affair with fellow castmate Rachel (Raquel) Leviss — aka Scandoval — rocked the reality TV world. And now, Madix says, "I'm fully telling my side of the story" — the whole story of her former relationship, from its honeymoon phase to the end.
The professional bartender's book Single AF Cocktails is her version of a breakup album, and Madix tells Elite Daily in between her rehearsals for Dancing With the Stars that working on each of the 60 cocktail recipes was "cathartic, boozy, and fun."
When Madix first announced Single AF Cocktails, which drops Dec. 5, the 38-year-old reality TV star teased on IG that through each drink, she'll be revealing every chapter of what went down between her and Sandoval. With the holidays coming up, you may be throwing yourself a get-together or just looking for something strong to enjoy as you dish on your own love life woes with your besties. Luckily, Madix has a drink for you, like a Good Chemistry spicy margarita or a Rumors cocktail with crème de cassis. "We really run the gamut in terms of all different types of flavors and spirits," she says.
Below, Madix shares the perfect cocktail to order, whether you're first sliding into someone's DMs or getting out of a complicated situationship, the drink she thinks her Vanderpump BFF and business partner Katie Maloney would enjoy, and what she actually thinks of the viral Pump-tini cocktail that even Jennifer Lawrence is a huge fan of.
Elite Daily: Is there a drink in Single AF Cocktails that you're most excited for people to try and read about?
Ariana Madix: There's one called What Doesn't Kill Me, and it's a mezcal drink. Mezcal is my favorite spirit, so that's the one I'm leaning towards right now. I love a smoky drink. I'll put mezcal in anything.
ED: You're a cocktail connoisseur, so can you recommend the best drink when you want some courage to slide into someone's DMs?
AM: A tequila shot.
ED: What's the best cocktail for when you finally get out of a toxic friendship and want to celebrate?
AM: Something like a sidecar. It's a heftier, sipping kind of cocktail that you can really savor, like you would the moment you get out of that toxic friendship.
ED: What would you drink when you're having a flirty night out and you're single and ready to mingle?
AM: A glass of Vanderpump Rosé.
ED: What's your go-to when you're just chilling at home with your friends and watching TV?
AM: That's red wine all the way for me. Red wine gives me cozy vibes. I would say like a good cabernet, put the fire on, scary movie, curl up under a blanket, and maybe play some fun drinking games.
ED: What's your drink of choice when you need to make a decision about your situationship?
AM: A dirty martini. I just feel like dirty martinis make me feel powerful, and I feel like if you're making a decision about a situationship, you're in your power.
ED: What's the cocktail you would want when you're venting to your BFF?
AM: That's vodka sodas, because you can throw those back and get real loose.
ED: What have you been drinking recently?
AM: Recently, I've been drinking nothing but water and Brown Sugar Shaken Espresso from Starbucks to try to get through my rehearsal days for Dancing With the Stars.
ED: You've been doing so well on Dancing With the Stars. What's your drink of choice when you want to celebrate after a big performance?
AM: Rosé champagne. Something that feels celebratory, and champagne always feels celebratory to me, but I always prefer rosé.
ED: You've also recently teamed up with Red Robin to create a savory Burgertini with vodka, bone broth, and pickle juice. Who in your friend group does this drink remind you of, or would appreciate this unique cocktail the most?
AM: Katie [Maloney] would appreciate this the most. If there's anyone other than me who loves a savory cocktail, it'd be Katie Maloney. It gives me brunch vibes, big time. It's lighter than a Bloody Mary, but in the same flavor profile.
ED: When coming up with the cocktail, you said it's like ditching basic for something a little bit more elevated. So, what's essential to any glow-up?
AM: Confidence, and if you don't have it yet, you just fake it till you make it. Maybe a fresh haircut, and a don't give a f*ck attitude.
ED: Another popular drink you're associated with thanks to Vanderpump Rules is the Pump-tini. What's the ideal situation for drinking one of those?
AM: I haven't had one of those in a while, but Pump-tinis are really strong. So, I feel like the ideal situation for drinking a Pump-tini is if you could be seated somewhere, so that you're not stumbling all over the place. If you're DJ-ing at Sur and you want to clap your hands and say Pump-tini a few times, maybe James Kennedy will appear in the mirror.
This interview has been edited and condensed for clarity.