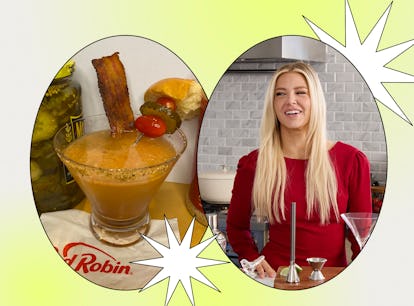 I Tried Ariana Madix's Burgertini & It's Like A Savory Pump-Tini
Madix tells Elite Daily it's the "dirty martini's juicier sister."
After earning the title of glow-up queen in the aftermath of Vanderpump Rules' Scandoval drama, Ariana Madix is giving the classic martini a burger-themed makeover. The 38-year-old bartender and reality TV star worked with Red Robin to come up with a mixed drink inspired by their new gourmet burger menu, and Madix tells Elite Daily the Burgertini is the "dirty martini's juicier sister." Intrigued by a burger-flavored martini, I just had to try Madix's concoction for myself — and it was very easy to make at home.
Before you yuck the yum of a burger drink, just know that the cocktail's in the same vein as a Bloody Mary and is a lot more elevated than you might think. Other than the burger juice — aka bone broth — this martini contains ingredients found in popular drinks like a pickleback. So, while the name might cause you to do a double take, the drink itself is fresh and sophisticated. In fact, Madix argues that the Burgertini "takes a classic and completely upgrades it."
The Dancing with the Stars contestant may be a professional cocktail connoisseur who knows how to mix together Pump-tinis like it's no big deal, but my bartending skills are amateur at best. However, the hardest part about making a Burgertini at home was frying up the bacon for my garnish. The drink itself is simple, and here's the recipe to make it yourself:
2.5 oz. vodka
2 vine-ripened tomato slices
1/2 oz. burger juice or beef bone broth
1 oz. pickle brine
In a shaker, you want to first muddle your tomato slices to get as much juice out as possible before pouring in your vodka, broth, and pickle juice. Add some ice into the cup before shaking it for about 10 seconds. Once everything is chilled and mixed together, strain your cocktail into your martini glass. Madix recommends adding some of Red Robin's Signature Seasoning Blend to the rim for added taste and Insta-worthiness, but it's not a must.
She also garnishes the drink with a bacon slice, cherry tomato, pickle chip, and a piece of brioche bun on what she calls a "burger skewer." These added touches not only make your drink more luxe looking, but they also really do enhance the flavor.
My Review Of Ariana Madix's Burgertini
I was skeptical of the Burgertini at first, but have come full circle in my appreciation of it. When it comes to surprising flavor combinations, you can go in two directions. The first is when you make something that's more interesting than delicious, or the ingredients can actually work really well together. Luckily, this Burgertini falls into the latter category, and Madix and Red Robin have come up with a new cocktail I can totally see popping up on trendy brunch menus.
While the overall burger drink idea is strange, the ingredients pair so well together in cocktail form. Talking about burger juice and pickle brine may not sound appetizing, so this is definitely a situation where words don't do this martini justice. If you're a savory cocktail person — especially fans of spicy margaritas, Bloody Marys, and dirty martinis — you'll love how smooth and salty this drink is paired with a nice tang from the pickle. The martini itself is delicious on its own, but I really do think the garnishes are a must for the full burger taste.
Taking a bite of tomato or bacon as I sipped really made me think I was eating a juicy burger. So, it looks like Madix and Red Robin succeeded in their goal to make an "interesting and bold" drink to celebrate their new menu. Unfortunately, you won't find the Burgertini at any Red Robin restaurants. However, with a quick trip to the grocery store, you can make it at home like I did — and trust me, it's worth it.