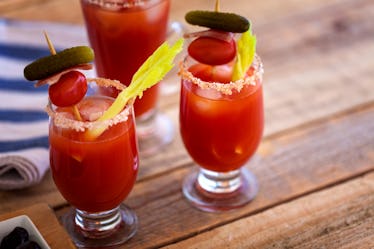 39 Bloody Mary Instagram Captions For Mother's Day Brunch Pics
Drbouz/E+/Getty Images
Mother's Day calls for a dope brunch. It's everything you need to properly celebrate the occasion: great food, even better company, and the best boozy drinks. Those who are 21 and up might agree brunch isn't complete without mimosas and Bloody Marys. Therefore, to get the party started with your number one, Mom, pics paired with Bloody Mary Instagram captions for Mother's Day are in order.
If Mom is always down to upgrade her brunch game, you just may be in luck. It sounds like a Bloody Mary Mother's Day brunch is the way to go. Whether you're planning a big get-together with the whole family, or hosting an intimate breakfast at your apartment, she'll appreciate the effort you put into planning.
The best part of all, creating a Bloody Mary bar is easier than you think if you haven't tried your hand at it before. Organize all of Mom's favorite drink toppings: olives, celery, tomatoes, pickles, cheese, and her favorite mix. Make the spread look cute for the 'Gram with some Mother's Day decorations. Mom will be super surprised, and you'll get the perfect Mother's Day snapshot of her with her DIY Bloody Mary. When you're done, these 39 captions will tie your post together.
1. "Sippin' with the best."
2. "Do Bloody Marys count as a vegetable?"
3. "This is my resting brunch face."
4. "You say tomato, I say Bloody Mary."
5. "Brunch, because Bloody Marys."
6. "Love you brunches."
7. "My aesthetic: sunglasses and Boody Marys."
8. "Brunch so hard Bloody Marys want to find me."
9. "Brunch without booze is just a sad, late breakfast."
10. "Brunch: the socially acceptable excuse for day drinking."
11. "This calls for a Bloody Mary."
12. "Sip happens."
13. "Keep calm and sip a Bloody Mary."
14. "It's a Bloody Mary kind of morning."
15. "Make mine a Bloody Mary."
16. "Bloody Marys for breakfast."
17. "Cheers to Mom."
18. "Bloody Mary is a state of mind."
19. "Empty glass? That means it's time for more Bloody Marys."
20. "I love you from my head tomatoes."
21. "I'll take olives with a side of Bloody Mary."
22. "Let's celery-brate a good life."
23. "Hakuna m'vodka, Mom."
24. "Why limit happy to an hour?"
25. "Sip, sip, hooray."
26. "If life gives you tomatoes, add a little bit of vodka."
27. "It's never too early for Bloody Mary o'clock."
28. "This might have vodka in it."
29. "I make Bloody Marys disappear. What's your superpower?"
30. "Unless you're vodka or family, the answer is yes, I can live without you."
31. "Let there be Bloody Marys."
32. "Why be moody when there are Bloody Marys around?"
33. "To the woman who gave me her love for Bloody Marys."
34. "You can find us brunching."
35. "Getting my fill of tomatoes."
36. "Here's to you, Mom."
37. "I only brunch with the best."
38. "You can't brunch with us."
39. "On Sundays, we brunch."
This article was originally published on