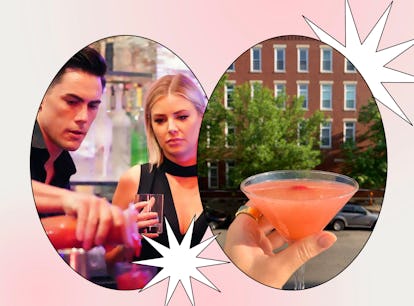 I Tried Vanderpump's Pump-Tini Recipe For A Boozy Finale Sip
It's easy to see why Jennifer Lawrence swears by this sweet and sour cocktail.
Bravo/Lara Walsh/Elite Daily
Bravo fans who've been hooked on every "Scandoval" detail have been waiting for all the drama to come to a head on the Season 10 finale of Vanderpump Rules. Emotions have been high ever since the bombshell that Tom Sandoval was cheating on longtime girlfriend Ariana Madix with their castmate (and her BFF) Raquel Leviss went public, and you'll want a cocktail in hand as you watch your fave Bravolebrities battle it out on Wednesday, May 24 — a Vanderpump Rules Pump-tini, to be specific. With plans to visit my own reunion watch party, I decided to make the Vanderpump Pump-tini recipe (apparently JLaw's go-to when she visits Lisa Vanderpump's PUMP restaurant) at home to see if it's worth the hype.
Ordering a Pump-tini at PUMP or SUR is definitely part of the experience, but you're also spending about $15 on a cocktail that's actually pretty easy to whip up with just a few bartending essentials. The PUMP cocktail recipe calls for vodka, grapefruit juice, lime juice, and muddled raspberries, as well as a rare spirit you might have never heard of.
Not only does Pavan liqueur — a spirit from the South of France that's made with Petite Muscat grapes aged in oak and blended with orange blossoms — have the most gorgeous bottle, but it also sounded like it'd add some delicious fruit and citrus notes to my Pump-tini. Unfortunately, after spending a weekend failing to find it at any liquor store in-person and online, I quickly realized why "Pavan liqueur substitute" is such a popular Google search. Luckily, I found an older Pump-tini recipe from Bravo TV that swaps out the Pavan for orange liqueur, so I got some Cointreau — an orange-flavored triple sec — as a substitute.
How To Make Vanderpump's Pump-Tini Recipe
What you need:
3 raspberries (plus 1 for garnish)
2 oz. vodka (I used Tito's, but you can also use Vanderpump Vodka if you really want to be on theme)
¾ oz simple syrup (you can also make this with sugar and hot water)
¾ oz. orange liqueur (I used Cointreau)
¾ oz. 100% grapefruit juice
¾ oz. lime juice
Ice
A cocktail shaker
A muddler
To start, I muddled the raspberries in the cocktail shaker using a whisk as a makeshift muddler since I don't have one. It got the job done, but I don't think the raspberries were as finely ground up as if I'd had the actual tool. Next, I measured out the vodka, Cointreau, and simple syrup, then added the grapefruit juice and lime juice. I added the ice, then shook up the mixture for a few seconds. I poured the mixture into my martini glass, and garnished with a fresh raspberry.
A Vanderpump Pump-Tini Review
My first impression of the Pump-Tini was that it looked almost like a Cosmopolitan with a super pretty light pink color. I definitely noticed that there was some pulp in my glass from the grapefruit juice and the not-so-muddled fresh raspberries, but IMO, it added some welcome freshness to the cocktail. If I were to make the cocktail again, I'd probably get fresh grapefruit juice and lime juice to lean into that even more, and maybe even add a sugar rim for capturing the perfect sippin' selfie.
Taking a sip, the most prevalent flavors were the grapefruit juice and the Cointreau, giving the Pump-tini a good mixture of sweetness and tartness. The orange flavoring was honestly delicious, and it made me wish I'd had the Pavan liqueur to make that taste a little stronger and add the Muscat Grape notes as well. While it didn't hit me at first, I noticed that the Pump-tini was definitely very boozy after a few sips in. One gave me a nice buzz, but I think two would be my limit without getting sloppy. After getting through a Pump-tini, it was easy to see why one too many of the dangerously delicious cocktail might lead to all the drink throwing, screaming, and overall Bravo drama we love to see on TV.