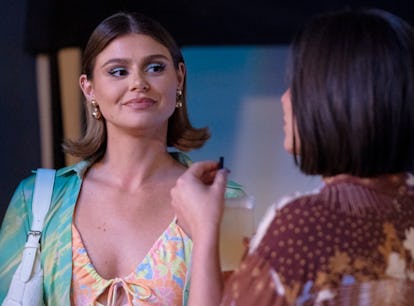 Raquel Doesn't Have A "F*cking Regret" In This New Pump Rules Teaser
Bravo/NBC
Fans of Bravo will forever remember where they were when the fourth-wall-shattering news broke that Vanderpump Rules star Tom Sandoval and Raquel Leviss have been having a months-long affair. The fact that Tom was in an almost decade-long relationship with Ariana Madix, who also just so happened to be one of Raquel's best, if only, friends in West Hollywood, only made the news all the more salacious and confusing. There are so many questions that need answers, like, when did Tom Schwartz know? And, did Scheana Shay really punch our Bambi-eyed villain?! Luckily, the Vanderpump Rules Season 10 mid-season teaser seems to answer all of them and delivers even more details about the aftermath, like Ariana telling Tom to "die" and that he doesn't "deserve one of her tears." You're going to want to take some time with this trailer in the group chat.
The fact that the alleged affair reportedly was going on during the filming of this season, while Raquel was concurrently defending herself for making out with the not-technically-single Schwartz, only makes the whole situation all the more egregious. It also means that fans will have to watch the original storyline play out before getting any new, current, deets on the whole debacle. In the new trailer, Raquel is seen leaning over a table telling someone that she has "no f*cking regrets" about her relationship with someone. Bravo confirmed to Elite Daily that cameras picked back up once the news broke in early March, and that the footage with Tom and Ariana at the very end and with Scheana in that white bucket hat is new footage, so she could be talking about or to Sandoval.
Tom and Raquel also reportedly filmed new footage together and it's entirely possible that the woman Tom is kissing on the forehead in bed is not Ariana, but Raquel, as she hides from the world in the wake of the Scandoval news breaking. Which is, ugh, just awful to even think about.
All of the new footage, including Ariana telling Tom that she wants him to "die," Bravo confirmed, will air in an episode after the previously packaged season airs. So until then, fans will have to sleuth to figure out if Raquel is talking about having no regrets about Schwartz, Sandoval, or, most damaging, likely both. Which is again, just awful. What are you doing Raquel!?
Given the fact that Raquel was already going to be set up as a villain for making out with Schwartz, it's possible that this scene in the teaser isn't referencing Scandoval at all. It's also been reported that Raquel hasn't filmed any more scenes since the news broke aside from one at her house with Tom, though that could have changed without fans getting wind of it, too. Either way, not having any f*cking regrets about making out with Schwartz, especially knowing what we all know now, is Not Great. She really should have listened to Lala Kent while the OG had time for her.
There is obviously going to be a lot to talk about at the Vanderpump Rules Season 10 reunion. Raquel reportedly filed a restraining order against Scheana for allegedly assaulting her in New York City when she found out about the affair, but Bravo-daddy Andy Cohen confirmed multiple times that they will film the reunion and that the network will "deliver." Seeing what they've done here for this mid-season trailer, there is no doubt that it will be a gripping couple of hours of television. So, uh, can we just fast-forward to the juicy stuff now?