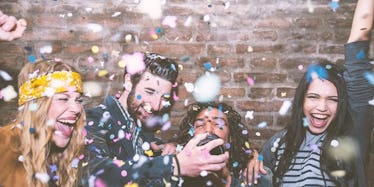 6 Important AF Pacts To Make With Your College Girlfriends Before Going Out
oneinchpunch/Shuttershock
Planning a night out with your group of best girls in college is fun as hell. Each one of you adds your own flare to the plan, and is totally dedicated to going out, having fun, and making some epic memories. Isn't that what college is all about?
As much as fun should unfold naturally, taking some precautions before going out to ensure your comfort and safety is a must. Besides, don't you have way more fun in college when you have all of your bases covered? Ladies, in this day and age, a woman with a game plan in mind is the ultimate way to go. So, if you're heading out with your college girlfriends into the endless opportunities of the night, reassure each other with a few pacts.
1. No One Gets Left Behind
No matter what, unless otherwise discussed, should anyone in the group you came with not return home with you. Depending on where you're going, big or small, it couldn't hurt to have a meet-up point. Also, cell phones are made for more than just cute selfies, so use them.
Liquid courage doesn't always work in our favor. It can make buried feelings for someone float right to the surface and into a situation we wouldn't have if we were sober. If you have to have your phone taken away, so be it. No one wants to have to issue apologies in the morning.
3. Bathroom Buddies Are A Must
I mean, a lot of girl squads already go this route, but bathroom partners in a new place is really smart. This isn't saying women are some fragile creatures that need assistance with everything, but the world can be a scary place. Also, what if the stall ran out of toilet paper? Teamwork (and bathroom girl gossip) is definitely in order.
4. No Taking Drinks You Didn't See Being Made
Once you hit 21, you'll most likely be hitting up bars and parties with your girl squad. Ladies, guard your drinks, and don't sip on anything you didn't see get poured or mixed. As cliché as it sounds, it's way better to be safe than sorry.
5. Have A Designated Code Word If You Feel Uncomfortable
Let's be stealthy, ladies. We have innovative ways to get out of situations when we feel super uncomfortable. So, if you overhear the word "pineapple" randomly make its way into my neighboring conversation, get me the hell out of there.
6. Having Each Other's Back No Matter What
It's so important to go out with a group of girls you know is going to keep you in their best interests. Ladies really have to stick together. Oftentimes, we are seriously a lot stronger that way. So, whether you're crashing a dorm party or going out on the town, keep your fun attitude close, but your lady pack closer.