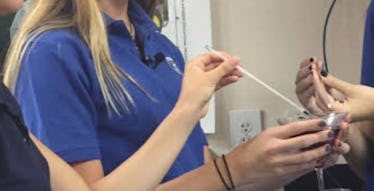 High School Girls Invent Subtle Method To Detect Date Rape Drugs In Your Drink
Gulliver Preparatory School
A group of high school girls are attempting to fight against rape culture with a brand-new — and extremely subtle — invention: a straw.
Victoria Roca, Susana Cappello, and Carolina Baigorri, all of whom are students at Gulliver Preparatory School in Miami, Florida, developed the straw concept during an entrepreneurship class they all took part in.
"Being young women, I feel like this is a problem that we hear about a lot, especially when we came to high school," Baigorri told InsideEdition.com. "It's such a common problem. Statistics say it's one in every five women, which is so many people."
The original model, a simple plastic straw, is set with two different strips that, if placed into a drink, will reveal if its contents are drugged or safe to consume.
If the liquid does have date rape drugs in it, the strip inside the straw will turn navy blue.
The straw is designed to detect traces of the most popular forms of date rape drugs, including roofies (Rohypnol), gamma hydroxybutyric acid (GHB), and ketamine (Special K).
The girls noted during their research that date rape can not only involve sexual assault, but also sex trafficking as well. This only inspired them to dig deeper when developing an effective solution to try and reduce any instances of rape that may occur.
"We know it's not a solution because it can't end rape, but we were hoping to lower the amount of rape and dangerous situations you might be in through drugs," Baigorri said.
Cappello added,
Our impact is just to help people feel safe in their surroundings and be aware of what's going on and just to make sure that where they are, and what they are drinking, is safe.
A patent for the straw, giving the girls the right to market and sell their innovative straw technology, is currently in the works. The three are aiming to advertise their product to college students in hopes of lowering rates of date rape on college campuses across the country.
Citations: Teens invent straws that can detect most common date rape drugs (AOL)