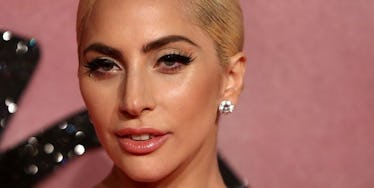 6 Ways To Turn Your Awkwardness Into Confidence, As Told By Lady Gaga
Giphy
Lady Gaga is the GOAT when it comes to giving zero fucks about what anyone has to say. She literally lives her life out loud, gambles on her own individuality and lets the chips fall where they may.
Nothing about her has ever been up for compromise, which keeps the world as fascinated with her celebrity as her music.
On her 31st birthday, it's only right that we recount all the ways we love Lady Gaga's "I'm weird and I know it, so deal"-ness. Because, let's be real: Lady Gaga takes an awkward situation and uses it to her advantage. That's something we can all relate to in our 20s.
Use these lessons from Professor Monster, and don't just survive that awkward stage in your 20s.
Thrive, dahlings, thrive!
1. Dress however the hell you want.
I bet Lady Gaga has never used episodes of Fashion Police for anything more than background noise at the crib while she plans her next look.
The hosts have probably both praised and dragged her for those daring red carpet looks, but Gaga is likely too busy being fashion forward AF, changing up awards show style standards and shocking the heck out of all of us in a sleek simple number or, you know, a meat dress.
Bottom line: Life is too short to include everyone else's opinions on what you want to wear each morning.
2. Do what you expect of yourself, not what others expect from you.
Being called "weird" or "awkward" is par for the course and something you can embrace, but don't let anyone define those terms for you. Boxes are for basics who are too afraid to be creative.
Just as people began to consider Gaga one of the frontrunners of pop music, she released a collaborative jazz album, Cheek to Cheek, with then 88-year old famed musician, Tony Bennett. And at the 2015 Grammys, she slayed those vocals with him by her side like she was one of the genre's vets.
3. Don't be afraid to fall off the grid when you need to.
You might not make $80 million off of your break like Lady Gaga (I know, damn), but tucking yourself away for a bit can be crucial to your overall wellness and productivity. Fall off when you need to.
Sometimes, people already know you for being different, so they'll read this quiet period as you going through a mid-life crisis. But, it's whatever.
Just give your friends and family the heads up so they know why your text messages are about to slow up and then move how you want to move.
4. Use your voice, even if what you're saying is different from the rest of the crowd.
Lady Gaga knows she's different and uses that to empower other people who identify with her. Her famous meat dress is the prime example, which she wore to protest the "don't ask, don't tell" policy that oppressed LGBTQ soldiers in the military.
Although Gaga does not consider herself a part of the LGBTQ community, she credits them with empowering her, and she used her quirky style to sound off on an issue important to them.
5. Embrace your unique sense of humor. Your next bomb idea may come from it.
Gaga's stage name evolved from a running inside joke she and her producer had together.
According to Rolling Stone, Gaga's producer was so inspired by her "Freddie Mercury-like" harmonies, he began to serenade her with "Radio Ga Ga" by Queen.
And just like that... boom. A stage name now synonymous with "icon" came from an inside joke that likely no one else will ever think is funny. Now Lady Gaga's laughing all the way to the bank.
6. Know that your quirky self can stand next to anyone else and still shine like crazy.
Very few singers can survive a spot next to Beyoncé without being overshadowed. It is what it is.
But Lady Gaga hopped on the remix of Mrs. Carter's "Video Phone" with a hot verse, and then turned up with Beyoncé in the video, matching her choreography step-for-step.
She didn't look out of place or like she was compromising her style to suit Beyonce's. She just freaking flowed.
Then, she brought the pop star along for the "Telephone" remix and shined once again with a collaboration people were begging to see again during her 2017 Super Bowl performance.
It didn't happen (because: Beyoncé's baby bump), but fans wanted to see it so badly because Lady Gaga can kill anything with anybody by just being Gaga.
See what happens when you commit to being yourself no matter who's around? Straight magic.