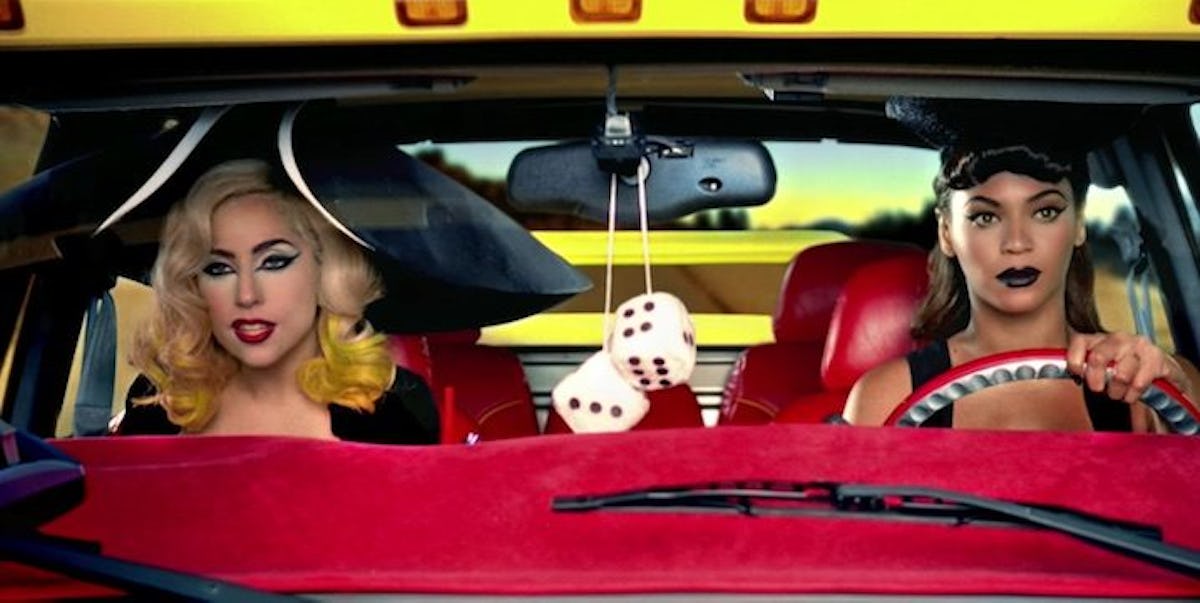 Beyoncé May Be Performing At The Super Bowl, According To Lady Gaga's Instagram
VEVO
WHAT DOES THIS MEAN, GAGA?!?!?!
With the Super Bowl around the corner, the entire country has one thing on their mind: how much everyone not from Boston universally thinks Tom Brady is a huge piece of shit Lady Gaga's halftime show!!!
While the pop icon isn't exactly the most obvious choice for a SB performance, there is a good chance this could go down as one of the all-time greatest halftime shows for a few reasons.
1) It's Lady Gaga. This isn't like Tom Petty and the Heartbreakers' show, where we all knew it'd be a bunch of past-their-prime dudes singing their hits.
This is a lady who dresses in meat sometimes and often enters rooms by popping out of human-sized rhinestone eggs.
2) With everything going on in the White House, you KNOW Gaga is going to make some message against Trump. For her to do this in Texas with a viewership that features a lot of Trump supporters is pretty insane.
It could potentially be the moment of the Super Bowl everyone is talking about the next day.
3) BEYONCÉ MAY BE PERFORMING!!!
OK, OK, OK. This is all pure speculation, BUT the internet is buzzing after Lady Gaga uploaded a picture to her Instagram that could be hinting at a Beyoncé cameo.
Lady Gaga captioned the post, "Houston, you are beautiful," with a bee emoji after. The internet has sort of decided this 10,000 percent means Beyoncé will have some role in her show.
Writer's note for dads who clicked on this article because they saw the words "Super" and "Bowl" but didn't read the rest of the headline: Beyoncé fans are said to be part of "The Beyhive." Beyoncé is known as The Queen Bee (or Bae depending on how cool the people you're having this conversation with are). This emoji could be signaling to the Beyhive that something is up.
Having a Bey-Gaga show would be insane for obvious reasons, especially given the fact that 'Yoncé just announced she is pregnant with twins on Wednesday, and Houston is her hometown.
The bigger story to come out of this could be, pending Gaga's performance, that this is the second time in two years a Super Bowl halftime show featured politically themed messages, as last year, Beyoncé came under fire after many viewed her performance as being anti-police.
If you want a refresher on that show, click here.
If there is anyone who can stir the pot, it's Beyoncé, and if she shows up to the stage, it's going to be in-freaking-sane.
Citations: The Beyhive Is Pulling For A Beyonce Super Bowl Cameo Thanks To This Pic (Refinery29)