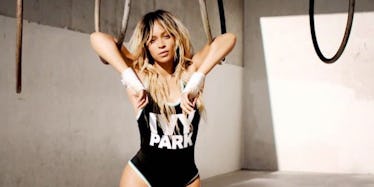 Beyoncé Is Pregnant With Twins And Still Has A Harder Workout Routine Than You
YouTue
Sorry, did you think Beyoncé was going to take a day off just because she's cooking two flesh pizzas in her brick oven? That feels like your fault.
Despite being pregnant with twins, Beyoncé is still more active than the rest of us on our best week. According to Us Weekly, the Grammy winner has been making low-key trips to SoulCycle in Los Angeles "almost every day."
Bey reportedly sneaks in with husband Jay Z after the lights go down and slips out just before class ends. She's particularly a fan of instructor Angela Davis, whom Oprah poached as a traveling trainer during her The Life You Want Tour.
Beyoncé could be working off the frustration of her Lemonade Grammy snub, or Justin Timberlake's insistence neither she nor Adele deserved Album of the Year.
Yes, OK. Blonde was an outstanding album I played until my friends' ears bled from sound exposure, but Frank Ocean didn't submit the album for consideration.
While celebrity support in an industry that traditionally overlooks the contributions of black artists is undoubtedly important, no one is really looking for Justin Timberlake's — of all people — opinion on this today.
Until the "Trolls" soundtrack makes me want to get pregnant in a glistening rooftop pool somewhere, Justin Timberlake's opinion on which album was the best of the year is pretty irrelevant.
Justin Timberlake and his newsboy cap/square glasses combo need to climb back on the Six Flags bus and leave the Frank hype to Kanye West/the rest of the entire world.
What? You know Beyoncé isn't sweating it up in the back of a SoulCycle studio to "Can't Stop The Feeling." Neither are you. Neither am I (though, to be fair, I am nowhere near a SoulCycle studio).
At least we still have the birth of Bey's two ripped fitness babies to look forward to this year. At least we still have that.
Citations: Beyoncé Is Doing Intense SoulCycle Workouts While Pregnant (Us Weekly)