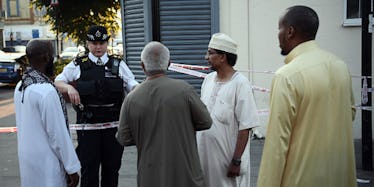 Why We Need To Support Muslim Victims The Way We Supported Manchester
Getty Images
On Monday morning, a 48-year-old man plowed a white van through a group of pedestrians standing on the side walk outside of the Finsbury Park Mosque in north London, according to multiple outlets.
Once the vehicle stopped, the crowd detained him and then flagged down a police officer.
One man has been pronounced dead at the scene, and eight people have been taken into hospitals.
A witness, Mohamed Mohidin, told CNN,
He drove on the pavement, coming straight towards all the Muslims. As he's coming to them, he hit all of them.
Another witness, Toufik Kacimi, said to the outlet,
He did it deliberately. We know it is a criminal... It is a terrorist act. When he finished what he did, he said that 'I did what I had to do.' Something like that.
The police are treating it as a terrorism act and the mayor of London, Sadiq Khan, shared that the city will increase the presence of law enforcement around mosques and other places of worship going forward.
Mayor Sadiq Khan shared,
The bad news is there has been a spike in hate crime[s], including in particular, Islamophobic crime, after the London Bridge attack.
The mayor is referring to similar attacks that took place on June 3, when a driver ran into pedestrians near the London Bridge and, simultaneously, knife attacks took place at a nearby Borough Market.
Those terrorist attacks followed closely behind the Manchester bombing at the Ariana Grande concert on May 22.
For both the London Bridge and Manchester terrorist acts, social media instantly rallied around the victims with heartfelt posts and hashtags like "#PrayForManchester" and "#ThisIsNotYourFaultAriana."
The solidarity was undeniable and brought a little sunshine and lots of unity to situations that were clearly meant to divide and conquer.
Muslims In London Need Our Solidarity, Too.
The people attacked outside of the mosque have seemingly not warranted the same level of sympathy as previously expressed for victims of terrorist acts.
There is no trending hashtag signifying the urge of thousands to speak out against violence, at the time of publication.
There is no statement from Trump, denouncing terrorism and declaring this assailant a "loser," as he swiftly did in response to the Manchester bombing.
While there are online conversations and words of encouragement being shared, this attack hasn't been made a viral international conversation, as it was when the victims weren't people who pray at a mosque.
In fact, some have even insinuated that this attack is some sort of karma.
Suggesting that Muslims deserve to be victims of this violence is eerily similar to responses after the Manchester attacks, which some used as the opportunity to bash the entire group who practices the religion.
The misplaced anger is rooted in Islamophobia, and assumes Muslims are a monolith who think and believe in a uniform way.
We can point toward the many Muslims who spoke out against the terrorism attacks as the official debunkers of that damaging myth.
Additionally, Muslims are quite often the victims of terrorist attacks, which shows that not everyone in the entire religion is in agreement and hell-bent on destroying non-Islamic people.
Misunderstandings about this seems to contribute to the decreased expressions of sympathy extended toward them.
Condemning terrorism until it negatively affects a group we are not familiar with or have misconceptions about perpetuates violence, intentionally or not.
We need to step up, understand that making all Muslims our enemy without knowing them is as hateful as those who have made us theirs, and speak out against this violence that has affected people who are simply trying to live their lives.
Living in fear is not a norm that anyone should be subjected to, and none of us should be picking and choosing when to show our support for those victimized by it.
Terrorism is wrong and needs to stop. There should be no religious, racial, economic, or national qualifications for who gets to benefit from that sentiment.