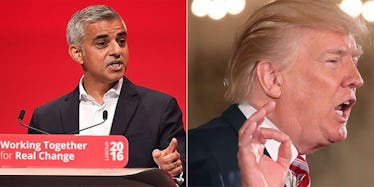 What You Need To Know About Sadiq Khan, The London Mayor Fighting With Trump
Leon Neal and Mark Wilson/Getty Images
Sadiq Khan clapped back.
After Donald Trump publicly criticized the London mayor in the wake of a terror attack in the UK, Khan responded by reiterating a simple message to his country's prime minister: Dump Trump.
Khan told London's Channel 4 News on Monday,
I don't think we should roll out the red carpet to the president of the USA in the circumstances where his policies go against everything we stand for. When you have a special relationship, it is no different from when you have got a close mate. You stand with them in times of adversity, but you call them out when they are wrong. There are many things about which Donald Trump is wrong.
Here, the 46-year-old pushed for the UK to rescind its invitation to the president of its most important ally. So, it's safe to say that Khan has become yet another international frenemy for Trump.
Much like French president Emmanuel Macron, this political adversary has an interesting backstory to his rise in politics. Here's what you need to know about Sadiq Khan, the London mayor at odds with President Trump.
He's the first Muslim mayor of a capital city in the Western World.
Khan made history in May of 2016 when he was elected mayor of London by not only becoming the city's first Muslim mayor, but the first Muslim mayor of a major city in the West.
During the campaign, he embraced his faith and made it a part of his appeal.
Ultimately, Khan's approach proved successful.
Before then, he was a human rights lawyer.
Khan practiced human rights law for over a decade, per USA Today, taking on numerous discrimination and civil rights cases.
Khan has been criticized for defending Louis Farrakhan, a leader of the Nation of Islam, in an attempt to overturn the British government's travel ban on him.
He curtailed his law career in 2005, when he he decided to veer into politics, eventually becoming the first Muslim person to attend cabinet meetings.
His feud with Trump dates back months.
Monday was not the first time Khan suggested the British government should reconsider inviting Trump to the UK. That's not surprising, though, considering Khan has criticized the president on multiple occasions for over a year.
In May of last year, Khan told the BBC,
I think Donald Trump has ignorant views about Islam. It's not just about me. … It's about my friends, family, and others, from all around the world … and my concern is he's playing into the hands of extremists who say it's not compatible to be Western and mainstream Muslim.
On Saturday, the back-and-forth of worth reached a new level when Trump criticized Khan's approach to reassuring Londoners after Saturday's attack on London bridge.
Trump's comments, however, appeared to take Khan's statements out of context, as it appears the London mayor had been telling people to not be alarmed by an increase of police presence.
He paints himself as a unifying figure.
Khan has characterized his political victory as a sign of togetherness. After winning London's mayoral election, he said,
I am so proud that London has today chosen hope over fear, and unity over division.
One moment symbolic of his push to carve an image of a unified London is a photo he took with a rabbi and archbishop while breaking fast for Ramadan.
Opponents tried to imply a link between Khan and terrorism.
During his campaign to become London's mayor, Khan's opponent, Zac Goldsmith, drew criticism from his own party for insinuating Khan was friendly to extremists.
As made evident by Khan's victory, Goldsmith's appeal did not translate to electoral success.
His parents are of Pakistani descent.
Khan grew up as one of eight children, born to Pakistani parents to emigrated to the UK in the '60s. His father and mother worked as a bus driver and seamstress, respectively, and raised their kids in a South London housing project, according to BBC.
In a feature for PBS, Khan attributed his decision to learn boxing to a need to toughen up in order to survive in rough neighborhood.
He's a liberal politician
Khan is a member of the Labour Party, Britain's predominant party on the left. Prominent figures of the party have been known to oppose Trump. In February, female members of parliament vowed to boycott if and when Trump visits to address the chamber.
That being said, it's safe to say Sadiq Khan is not exactly an outlier in feuding with Trump.
Citations: Sadiq Khan, London's first Muslim mayor, on connecting citizens (PBS), London Mayor Sadiq Khan and the ties to Farrakhan he'd rather forget (Chicago Tribune), http://www.bbc.com/news/uk-england-london-36140479 (BBC), We will boycott Trump speech, say Labour's female MPs (The Guardian), 5 things to know about London's first Muslim mayor (USA Today)