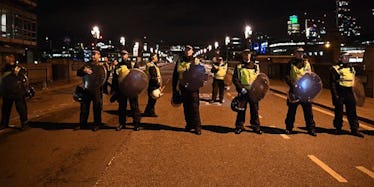 People Stand With London On Twitter After London Bridge And Borough Market Attacks
Carl Court / Staff / Getty Images
The London Bridge and Borough Market attacks on Saturday night have been identified as acts of terror, the Metropolitan Police reported via Twitter.
Police responded to bystanders' claims that a van drove into pedestrians crossing the London Bridge, according to CNN.
Police also responded to a stabbing incident at London's Borough Market, a popular restaurant and pub destination that is in striking distance from the bridge.
Although a third incident was reported at Vauxhall, little information has been provided, according to The New York Times. It is being ruled as a separate attack at this time.
People worldwide have heavy hearts after hearing the news.
Many decided to stand with London with a statement on Twitter.
Some of those Twitter users urged people to thank the emergency responders for their dedication.
Others sent their thoughts to those who have been affected by these tragedies.
People are growing upset with constant news of senseless attacks.
When will things change in this world?
This hateful violence need to come to an end.
CNN spoke to Mark Roberts, an onlooker on the bridge, who said, "Within my line of sight, there were five or six people on the ground that were not moving. It looked to me that the van was aiming at the people."
The New York Times quoted a man who only identified himself as Andrew. He said a man came into the pub with a massive knife, and while running for his life, Andrew encountered a body nearby.
These attacks come in the wake of the Manchester bombings on May 22 at an Ariana Grande concert — and on the heels of the pop star's June 4 benefit concert.
CNN reported that Britain's Press Association said the prime minister will chair a meeting of the Government's Cobra emergency committee on Sunday, June 4.
Our thoughts and prayers go out to those who have been affected.
Citations: #LondonBridge (Twitter)