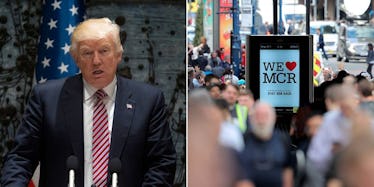 Trump Responds To Manchester Terror Attack: Victims Were Killed By 'Evil Losers'
Getty Images
President Donald Trump insisted that terrorists be called another name: "evil losers."
While responding to the deadly attack that killed at least 22 people at the end of an Ariana Grande concert on Monday in Manchester, the president said on Tuesday,
So many young beautiful innocent people living and enjoying their lives murdered by evil losers in life. I won't call them monsters because they would like that term. They would think that's a great name. I will call them from now on losers because that's what they are.
Trump gave his response while speaking in Israel, the current stop on his 9-day trip through the Middle East and Europe. The attack, which he condemned, killed at least 22 people and injured dozens of others at the Manchester Arena in England.
The first victim has been identified as 18-year-old Georgina Callander. The second identified victim is an 8-year-old named Saffie-Rose Roussos.
Of the attackers, Trump went on to say on Tuesday,
They're losers, and we'll have more of them. But they're losers, just remember that.
According to Jonathan Lemiere, a White House reporter for the Associated Press, Trump himself added the words "evil losers" to a prepared statement meant to respond to the attack.
During a Tuesday morning appearance on CNN, the network's Senior National Security Analyst, Lisa Monaco, was asked whether the words used to describe terrorists matter.
Monaco responded,
To some degree it I think it does. These are fanatics, who are undertaking these attacks to terrorize individuals and to glorify themselves. They're seeking glory to do this, so we shouldn't pay into that with our rhetoric.
Monaco seemingly co-opted President Trump's remarks on the Manchester attack. However, she also went on to emphasize that linking such attacks to Islam should be avoided, which is a point that Trump's rhetoric in the past has notably contradicted.
Monaco said,
It is playing into something that they [terrorists] use to recruit individuals to their cause, saying that they are engaged in a clash of civilizations, a fight of us and them. We don't want to play into that.
ISIS has since claimed responsibility for the attack in Manchester.