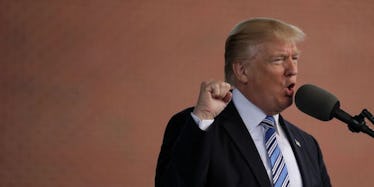 Trump Is Giving A Speech On Islam In Saudia Arabia, What Could Go Wrong?
Getty Images
President Donald Trump is traveling to Saudi Arabia this week, where he'll deliver a speech on Islam.
Trump has frequently been accused of being Islamophobic, especially in relation to his attempts to ban travel from a number of predominately Muslim countries.
During his presidential campaign, Trump said he wanted to ban all Muslims from entering the US.
He's since adopted a less extreme position, but his comments on Islam during the campaign have created legal hurdles for his travel ban, which is held up in court at the moment.
With that said, it will likely be difficult for many to take his speech in Saudi Arabia seriously, especially Muslims.
Like Trump, Miller has a troubling past in terms of his views on Islam.
He wrote Trump's suspended executive order (the travel ban), which many refer to as a "Muslim ban," alongside White House Chief Strategist Steve Bannon.
When Miller was a student at Duke University, he wrote a biweekly column for the university's newspaper, The Chronicle.
In one article, he wrote, "Islamic terrorists...have declared a death sentence on every man, woman and child living in this country."
John Burness, Duke's former senior vice president of public affairs and government relations, once described Miller as perhaps "the most sanctimonious student" he ever encountered and "incredibly intolerant."
Miller was also the first national coordinator for the Terrorism Awareness Project (TAP), spearheaded by the David Horowitz Freedom Center, a right-wing group.
On its website, the David Horowitz Freedom Center says its mission is to combat "the efforts of the radical left and its Islamist allies to destroy American values and disarm this country as it attempts to defend itself in a time of terror."
The Southern Poverty Law Center (SPLC) considers the David Horowitz Freedom Center to be an anti-Muslim hate group.
Needless to say, it's controversial to have Miller write a speech on Islam, especially due to the fact Trump is delivering it.
National Security Adviser HR McMaster said Trump's speech will be "inspiring yet direct" and focus on the need to confront "radical Islam."
McMaster said,
The speech is intended to unite the broader Muslim world against common enemies of all civilization and to demonstrate America's commitment to our Muslim partners.
So, Trump, who's frequently been characterized as a flaming Islamophobe, is going to the Middle East to lecture Muslims on the need to confront extremism.
What could go wrong?
Leaders of Muslim countries will reportedly be in attendance for Trump's speech.
But, it's not clear if leaders from any of the countries Trump has attempted to ban travel from -- Iraq, Iran, Syria, Sudan, Libya, Somalia and Yemen -- will be joining.
During his trip, Trump will also reportedly announce a $100 billion arms deal with Saudi Arabia, which has come under criticism for killing civilians in the ongoing conflict in Yemen.
Trump is being urged to address what's happening in Yemen as the fight between the Saudi-led coalition and Houthi rebels over the past two years has created a dire humanitarian situation.
The New York Times reports seven million in Yemen are facing starvation, and 17 million are in need of "urgent humanitarian relief."
Speaking about the situation in Yemen on Monday, David Beasley, the newly installed head of the United Nations food relief agency, said, "It's very, very timely that the United States apply all the pressure it can with regard to all parties involved, including Saudi Arabia."
On top of the arms deal, Trump will reportedly call for the formation of an "Arab NATO" to fight terrorism and present a challenge to Iran, according to The Washington Post.
This will be Trump's first visit to a foreign country since becoming president, and it seems it will be quite an eventful trip.
Citations: President Trump Will Give a Speech on Islam in Saudi Arabia (Time), Stephen Miller Is Writing the Big Speech on Islam That Trump Is Delivering in Saudi Arabia (New York Magazine)