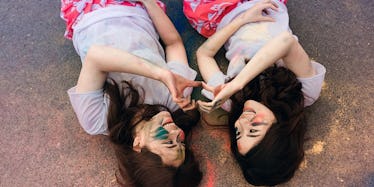 10 Cute Best Friend Necklaces You'll Actually Want To Wear As An Adult
Pixabay
Back in middle school, you and your best friend probably had multiple sets of matching BFF necklaces from Claire's.
When you pieced them together, they told the world you were "Best Friends."
Even though the idea of best friend necklaces can seem totally #TBT, you still love showing off to the world you and your bestie are special to each other.
It's a sweet, meaningful accessory that keeps your BFF in your mind every time you wear it, and shows she'll be in your life forever.
You also get a little excited every time someone asks you about it, because you get to humble brag you have the coolest friend in the entire world.
If you're like me and still want to keep the bestie charms alive, here are 10 cute necklaces you'll actually want to wear as an adult.
1. When You Have A Slight Obsession With Avocado
Best Friend Necklace Avocado Polymer Clay, $17, Etsy
These necklaces are seriously making me crave some guac and tortilla chips, TBH.
Peanut Butter Necklace Jelly Sandwich, $8, Etsy
Because, let's be honest: You and your bestie will always go together like a great peanut butter and jelly sandwich.
3. When Your Bestie Is Actually Your Fur Baby
Dog Bone Best Friends Charm Necklace & Keychain, $1, Wish
Get a set of BFF necklaces for you and your beloved pooch.
4. When She Has A Pizza Your Heart
Lux Accessories Goldtone Enamel Pizza Emoji BFF Best Friend Forever Necklace, $9, Amazon
... Always and forever.
5. When You Have An Entire Squad Of Besties
Three Way Necklaces, $35, Etsy
I call dibs on the Nutella one... just saying.
6. When You Share A Passion For Music
Music Note Necklace Pendant, $38, Etsy
What's more fitting than a pair of musical notes to represent your bond?
7. When You Go Together Like Milk And Cereal
Cereal And Milk Set, $35, Etsy
What's a yummy bowl of your fave cereal without milk? And isn't milk totally drab without cereal?
8. When You're All About That Oreo Life
Oreo Cookie Necklace, $15, Etsy
I've never met a person who hates an Oreo cookie. And if you do, I'm *quite possibly* shading you hardcore right now.
9. When Your Fave Thing To Do Is Watch Disney Movies
Disney Best Friends Necklace, DIY, Disney Family
Here's a DIY necklace you can both make together over a bottle of your fave wine.
10. When You're Into That Classy Look
Charming Fashion Rhinestone Necklace, $1, eBay
This twist on the classic set is made beautiful with rhinestones.
You're never too old to show "your person" that you're best friends forever with matching necklaces.